---
UPDATE, DECEMBER 8, 2017: A few products we tested have been discontinued since we first wrote this article. We're in the process of testing them, and will update this guide as soon as we have data from our dish lab.

---
Study after study has proven that hand washing is the least efficient way to clean dishes. Hand washing isn't just a waste of time, it's also a huge waste of water. But not all kitchens have the plumbing—or the space—to install a full-sized dishwasher.
If you're sick of hand washing but can't remodel, we've got the solution: a portable dishwasher. Just snap it onto your kitchen sink's faucet when you need to use it, then wheel it away to a corner or closet when you're done. Some even come with built-in counter space on top. Just be forewarned: If your kitchen faucet lacks a removable aerator, you may have some issues with installation.
There are also small, countertop dishwashers that can only fit a few place settings. If that's good enough for you, we're fans of the Sunpentown SD-2201W. But we think most consumers would benefit from something larger—the models we chose to highlight here are all designed to wash full loads of dishes.
Updated January 03, 2018
Advertisement - Continue Reading Below
SPT SD-9241W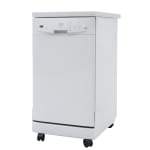 SPT SD-9241W
Best Overall
Without question, the SPT SD-9241W is the clear winner. For about $475, you get an 18" portable that turns out spotless dishes in just under two hours. In our tests, it sprayed away stains that stymie many full-size dishwashers, and even has a stainless steel interior for quieter washing. User reviews don't signal reliability issues, either, although some find it hard to fit odd-shaped dishes in the racks.
With a simple interface and six cycles to choose from, the SPT is a snap to use and surprisingly versatile. As long as you don't mind drying some spots of water off plasticware—the SPT has no heated dry option—this is as good as portable dishwashers get.
Kenmore 14652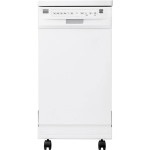 Kenmore 14652
The 18" Kenmore 14652 comes in an incredibly close second. Our tests showed a nearly perfect clean and great debris filtration, and the stainless interior is a nice touch. You also get a China Delicate cycle for fragile dishes and a Quick Rinse for fast touch-ups. User reviews report a high level of satisfaction with the machine.
With all these pros in its favor, you might wonder why this Kenmore isn't the winner.
In a word? Price. Selling for $630 at Sears, the 14652 is more expensive than many full-sized dishwashers. Again, we can't praise this Kenmore enough, but spending an extra $150 up front over the SPT makes it tough to justify the cost. If you can find it on sale, though, don't hesitate. Read Our Review
Danby DDW1801MWP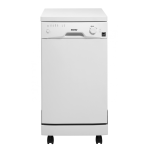 Danby DDW1801MWP
The Danby DDW1801MWP is another 18" portable with a stainless interior. At $359 in stores, it's also the cheapest model in our lineup.
The overall cleaning performance was very strong, although dishes on the top rack had some issues. Danby's unusual control design, completely devoid of text, may also take a while to get used to. It's a new model, so there aren't many owner reviews that speak to long-term reliability.
None of these complaints, however, are enough to prevent us from recommending this machine. It's a great bargain compared to the SPT and Kenmore, so if you're looking to get a portable and your budget is tight, this is a perfectly viable option.
Whirlpool WDP350PAAW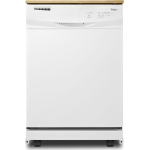 Whirlpool WDP350PAAW
And now for something completely different: The Whirlpool WDP350PAAW is a full-sized 24-inch dishwasher that's actually installed in a metal cabinet, complete with a laminate woodgrain top for extra counter space. Despite what some retailer websites say, it appears this dishwasher cannot be converted into a built-in model.
While it's less energy-efficient than other portable models we've tested, it does a fine job cleaning dishes and we'd happily suggest it as the go-to option for a full-sized portable. However, Whirlpool's website no longer lists this—or any other portable dishwasher—as being in production. For now, the WDP350PAAW is still readily available at retailers, but it may not be for long. And at $639, we might suggest waiting until it hits final clearance.
GE GSC3500DWW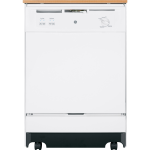 GE GSC3500DWW
Avoid
Unlike the aforementioned Whirlpool, the GE GSC3500DWW is still in production. It's also a convertible model—simply buy an inexpensive kit and you can take it off its wheels and permanently install it in your kitchen.
Unless that convertible option appeals to you, however, we don't think this GE offers any benefits over the 24-inch Whirlpool. This unit only costs $579 in stores, but its cleaning performance was noticeably worse than any other machine on our list, unable to perfectly clean almost every stain we threw at it. Unless you're a particularly heavy dishwasher user, we'd suggest spending less on a slimmer model. Read Our Review
Advertisement - Continue Reading Below