When people ask us which dishwasher to buy, our advice is usually pretty simple: Buy one of our affordable, top-ranked models and be done with it.
But if you have an upscale kitchen and want a dishwasher that does more than just clean, the sky's the limit. Brands like Thermador, Asko, Bosch, and Miele sell dishwashers with features most people haven't even dreamed of. Some have doors that open automatically at the end of a cycle. Others sport attractive interior lighting. Many can wash dishes quickly during parties, or clean crystal and china without damaging it.
So we brought some of the most expensive and exclusive dishwashers into our product labs, and put them through the same battery of tests that we give every other dishwasher. We also upped the ante a bit to see how easy it was to fit stemware, and how fast they washed and dried. These are the best high-end dishwashers of 2017.
Updated January 19, 2018
Bosch Benchmark Series
Bosch Benchmark Series
Our favorite high-end dishwasher is the Bosch Benchmark. Available in 24-inch and 18-inch configurations, it comes in a variety of exterior finishes including panel-ready, and can be installed to sit flush with cabinetry if you want a truly modern look.
A step up from our top-rated 500 and 800 Series, the German-made Benchmark dishwasher cleans just as well as other Bosch machines, but can run at just 38 dBa. That makes it one of the quietest dishwashers you can buy.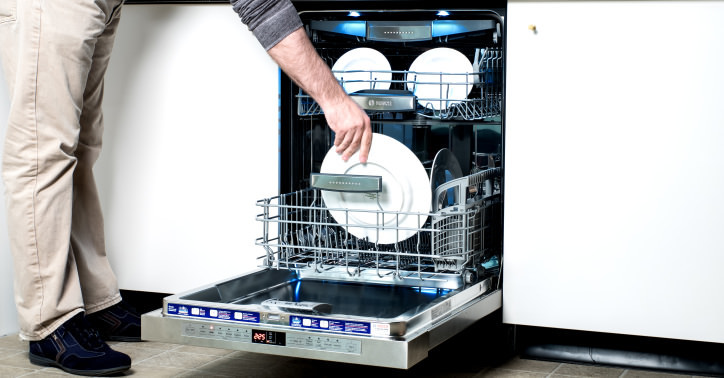 But that's not the only feature that sets the Benchmark apart from the pack. A built-in water softener keeps dishes from getting spotty, while integrated interior lighting and available color LCD display make for easier use.
To learn more about the Bosch Benchmark series, check out our full review of the Bosch SHE89PW55N.
Miele EcoFlex Futura Lumen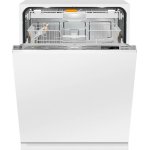 Miele EcoFlex Futura Lumen
We've never encountered a dishwasher like this before. Yes, it cleans perfectly. And yes, its third rack is specially designed to hold hard-to-fit items like ramekins and espresso mugs. But the Lumen has other tricks up its sleeve.
The first is Miele's Knock2Open feature. If you order the Lumen with a panel that matches your cabinetry, you don't have to add a handle. Just knock twice on the panel and the door will open, revealing a hidden dishwasher. At the end of the cycle, the door automatically cracks open a few inches to help moist air escape so the dishes dry faster.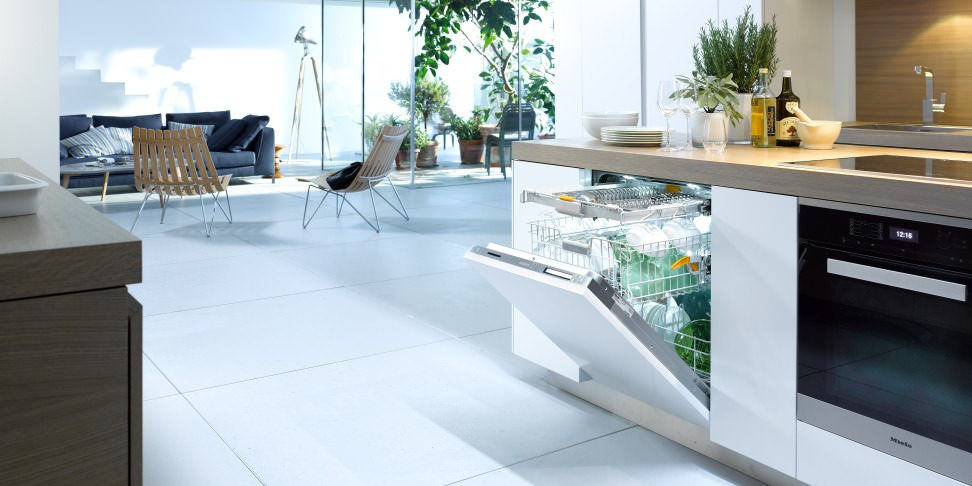 The Lumen also introduces Miele's QuickIntenseWash, a one hour cycle that cleans just about perfectly, and a heat exchanger that gets dishes dry without wasting energy.
To learn more about the Miele Futura Lumen series, check out our full review of the Miele Futura Lumen EcoFlex G6885SCVi Dishwasher.
Miele EcoFlex Futura Crystal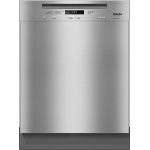 Miele EcoFlex Futura Crystal
Like the Futura Lumen, the Crystal features the one-hour QuickIntenseWash cycle. Our tests show that it cleans just as well as a standard Normal cycle—except it takes half as long.
While it lacks the Lumen's Knock2Open and heat exchanger, the Crystal does come with an auto open feature, and the same third rack as the Lumen. It also has the same glassware cycles, designed to clean delicate stemware and crystal.
Thermador Sapphire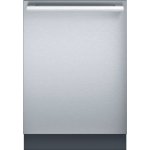 Thermador Sapphire
It's no surprise that Thermador's dishwashers are great at cleaning. After all, they're based on the same design that underpins our award-winning Bosch dishwashers, and Thermador is owned by the same parent company as Bosch.
The Thermador Sapphire is shallow enough to fit flush with cabinetry, but still fits baking sheets and other tall items. The tines on the lower rack are cleverly arranged such that you can fold down every other one, widening the gaps between them to fit bowls rather than plates.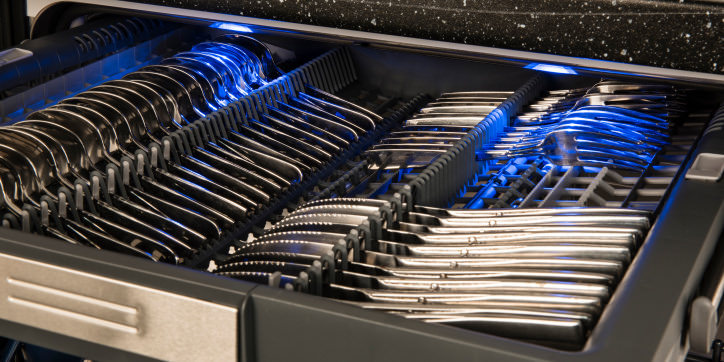 Extras include blue interior lighting, a 42 dBa noise rating, and a 2-year full warranty. A heavy duty cycle finishes in about 90 minutes.
To learn more about the Thermador Sapphire series, check out our full review of the Thermador Sapphire DWHD650JPR Dishwasher.
Thermador Topaz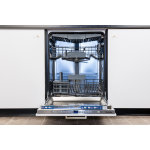 Thermador Topaz
The Topaz has the same third rack and most of the same flexible interior options as the Sapphire. In fact, the only major difference is a lack of interior lighting and a sound score of 44 dBa.
Like all Thermador dishwashers, you can often get it at a discount if you purchase it as part of a package of Thermador products—including a dual-fuel range that we awarded a top rating.
To learn more about the Thermador Topaz series, check out our full review of the Thermador Topaz DWHD640JPR Dishwasher.