Edgestar DWP61ES
If you're short on space and need a dishwasher, the EdgeStar DWP61ES is an ideal choice. It costs a little more than its competitors, but it also offers a countdown timer and start delay. Not only can you hook it up to almost any faucet, but it also does a very good job getting dishes clean.
EdgeStar DWP61ES Countertop Dishwasher Review
$389.00
Better than
43%
of Reviewed Dishwashers
Upper Dish Rack
There's only one dish rack on this unit, and it's pretty straightforward. The only adjustments are the removable cutlery rack and a shallow folding shelf. In our capacity testing, tines were a little close together for some larger bowls and serving dishes.
Cutlery Holder
The cutlery holder is removable. It features oddly-sized holes that won't fit the handles of some silverware styles.
Detergent Dispenser
There are two dispensers on this dishwasher for detergent: one for larger loads, another for smaller loads. If you're using a tablet instead of a powdered detergent, press the "3 IN 1" button on the control panel to optimize the wash cycle. There's also a rinse aid dispenser.
Ease of Use
If you have a standard kitchen faucet with a twist-off aerator, the Edgestar DWP61ES will connect to it easily. We needed a 15/16" to 55/64" adapter to hook this dishwasher up with the faucet in our lab, but otherwise installation was easy and painless. This is a heavy machine, so prepare to leave it near your kitchen. You could always lug it to a closet for storage, if you're so inclined.
Noise
You'll definitely notice this washer's many noises, from the sound of water flowing in to the hum of the pump that pushes dirty water out.
Controls
Controls are spread out across the panel, with a cycle selector knob on one side and the cycle display on the other.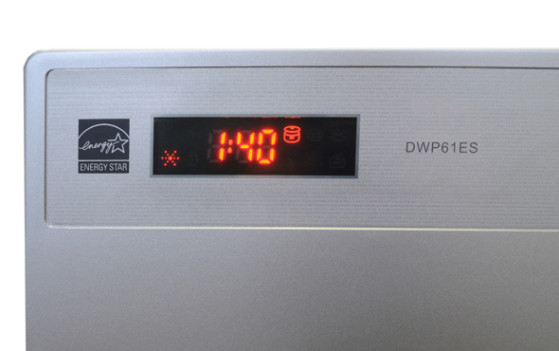 Sections