dishwashers
Asko D5434XXLS
The Asko D5434XXLS boasts smooth design and competitive performance.
$1,315.00 MSRP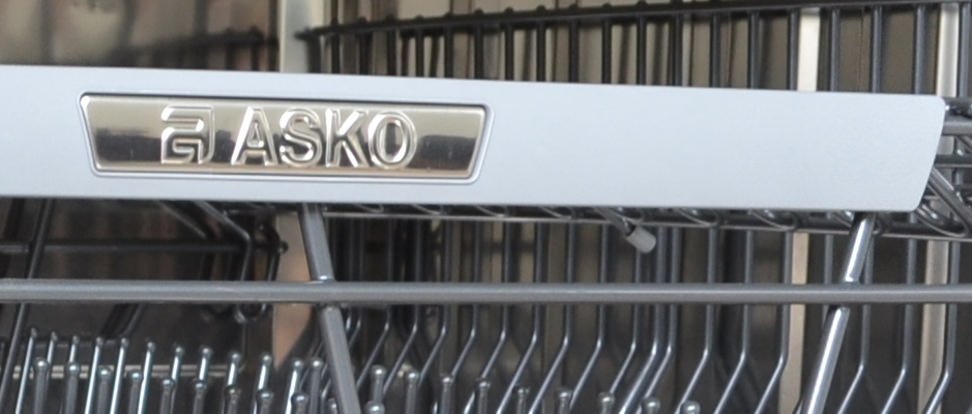 Introduction
Everything about this machine is cool. If it were a TV character it'd be The Fonz. If it were a musician it'd be Miles Davis. If it were a city it'd be Tokyo—even though it's Swedish.
A new entry in the high-end D5000 series from Asko, the D5434XXLS looks and performs like a boss. Despite its laid-back demeanor and good looks, this dishwasher performs well, even if it isn't the quickest thing out there. But let's face it, punctuality isn't cool.
Design & Usability
In some ways, it seems to have sacrificed practicality in favor of design, but we can't really argue with the final result.
the D5434XXLS is a shape-shifter a kitchen, capable of blending in while turning heads. Our one complaint is the position of two screws at the base of the machine. In a certain light, they reflect off the door in a way that makes it look dented.
An interesting design strategy. Very Swedish.
This control panel is one of our favorites, and it also won the prestigious Red Dot design award when it debuted. The touch-sensitive buttons are flush-mounted and arranged in a circular shape on the front of the machine. A digital display on the right indicates the time remaining on a wash cycle, as well as a variety of symbols for operating other features.
It's an attractive design that gives the benefit of front-mounted controls without an ugly plastic console, but the lack of buttons means you must scroll through wash cycles. The two customization buttons as well as the Delay and Start/Stop buttons are engaged directly, but we found the latter to be somewhat weak to the touch. To engage extra wash options and settings, you have to press multiple buttons at once, almost like mashing an attack combo in Mortal Kombat. Unfortunately, the D5434XXLS does not include a Fatality option for baked-on grease.
Inside, two foldable rows of tines in the lower rack can be a bit of a nuisance, in that they are latched to the side of the basket and somewhat difficult to maneuver with a full load. However, their presence does make for greater flexibility. The angled tines and smoothly sliding wheels only add to this perk. The upper rack definitely seems to lack in tines, but the angled grid layout makes up for any lost stability. It also seems to contribute to greater dish loading flexibility, which is an interesting design strategy. Very Swedish.
Features
An abundant set of features, all operable via the nifty touch-sensitive interface.
In addition to the three main cycles (Quick Wash, Normal Wash, and Heavy Wash), there is a Daily Wash option—for use in everyday dish washing—and an Eco Wash, for more efficient energy and water consumption. There is also a Rinse & Hold feature, which allows you to rinse your dishes until you have enough for a full load—useful for reducing smells if you don't pre-rinse by hand.
There are two options for customizing individual washes: a Temperature option (high or low) and a Drying feature that increases the temperature during the final rinse. You've also got a Delayed Start feature that stretches up to 24 hours. A child lock, selector for signal volume, LCD Contrast Adjust, and Rinse Aid Dosage round out the impressive package.
Comparable Products
Before you buy the Asko D5434XXLS, take a look at these other dishwashers.
Performance
Like Clint Eastwood, this dishwasher gets the job done while staying very chill. That said, not everyone has the patience of The Man with No Name.
Our biggest (and only) complaint with performance was cycle length.
Getting mad at the D5434XXLS for taking so long is like getting mad at James Bond for not killing Goldfinger in the first 20 minutes. The best news is that the great—if lengthy—performance applies to each of the washes: Normal was nearly perfect, Heavy Duty is a beast of a cycle that definitely gets the job done, and the Quick Wash was one of the most impressive we've seen. In case you hadn't guessed by now, our biggest (and only) complaint with performance was cycle length. Yes, we understand that dishwashers must be meticulous to deliver high performance, but a three-and-a-half hour Heavy Wash? Oh, let me just go run a marathon before my dishwasher is done. That's just what you do when you're cool, though: take your precious time.
Conclusion
If you can find one—especially if it's discounted—buy it and see an immediate increase in your kitchen's swagger.
If it were up to us, we'd get rid of the end-cycle signal and replace it with a sound clip of the Fonz going, "Ayyy!" (We also would have liked a feature where you had to give the machine a little jukebox-like whack to start it up... but we can also see why that might not be ideal.) This Asko may be slow, but it's really efficient and does a great job cleaning dishes. Now, you may think you'd have to pay a lot for that kind of awesome performance...and, unfortunately, you'd be right. It's got an intimidating MSRP of $1099, and sales aren't terribly easy to come by; that's the downside of trying to find high-end European appliances in the American market.
Our editors review and recommend products to help you buy the stuff you need. If you make a purchase by clicking one of our links, we may earn a small share of the revenue. Our picks and opinions are independent from any business incentives.