dishwashers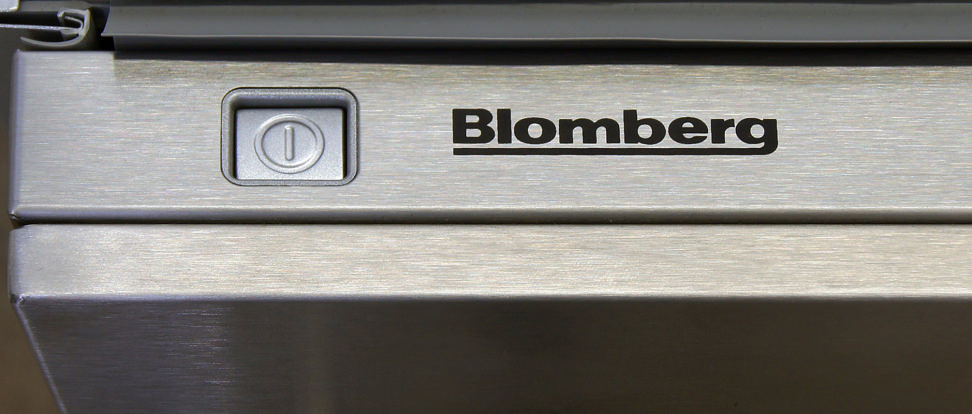 The Blomberg DWT57500SS is better than 62% of the dishwashers we tested.
It is better than 67% of the dishwashers we have tested under $1,500.
It is better than 60% of the install dishwashers we have tested.
If you've never heard of Blomberg before, you're not alone. But that's only because the brand is new to the US. Manufactured by the massive Turkish appliance company Arçelik, the DWT57500SS (MSRP $1,110) is the American version of a dishwasher that's popular in Europe.
Here in America, Blomberg promises European-style appliances without sky-high prices, and the DWT57500SS almost delivers perfectly with solid performance, some very nice usability features like lighting and a cleverly-designed third rack, and a sale price under $1,000. Although light on extra wash options for a machine in its price range, this machine's vast selection of wash cycles should keep you covered as long as you aren't a dishwashing micromanager.
We tested Blomberg's entry-level dishwasher earlier this year, and it proved to be a stellar value with good cleaning performance and sale prices under $550. While this flagship offers more features, its higher cost means it's up against some stiff competition from Bosch, GE, and KitchenAid.
Design & Usability
One worldly dishwasher

The DWT57500SS's controls might take some getting used to for American consumers. All the buttons are located on top of the door. To the left is the power button, which stays depressed when you push it in. If this reminds you of an old TV or video game console, then the LCD screen on the right will definitely make you think of a VCR. Orange letters and icons tell you the estimated remaining cycle time and which cycles and wash options you've engaged.
Instead of displaying the full name of the cycle, the LCD only shows you P1 through P7, each number standing for one of the DWT57500SS's seven cycles. If you forgot what P4 or P6 is, there's a handy cheat sheet printed on the top of the door. Some might find this annoying, but it's actually clever on Blomberg's part: If they plan to release the DWT57500SS to a mainly Spanish or French-speaking market, they would only need to change the language of the cheat sheet rather than program entirely new words into the display.
The inside doesn't stray too far from traditional dishwasher design, with enough space to hold ten place settings and a serving setting. Highlights on the DWT57500SS's interior include a sliding cutlery basket, straight tines for loading pots and pans, and internal LED lighting. This dishwasher also comes with an adjustable-height third rack for loading silverware, cleverly positioned so that it doesn't prevent loading taller items (such as stemware) on the upper rack. If it's still getting in your way, you can easily remove the third rack entirely.
Features
A boatload of wash cycles to choose from
The DWT57500SS has seven cycles to cover every kind of wash. They are: Rinse & Hold, Quick Wash, China/Crystal, Regular Wash, Pots & Pans, Pots & Pans Plus, and Auto, which is a cycle that self-adjusts according to the soil level. Interestingly, the instruction manual doesn't explicitly tell you what each cycle is designed to wash—there's just a chart telling how many washes and rinses each cycle uses. Luckily, the names are pretty self-explanatory.

Contrary to the extensive list of wash cycles, the DWT57500SS has very few options for customizing a wash. There's a Half Load option that reduces overall water and energy consumption when you have a particularly light load, and a Tablet Detergent Function that supposedly improves drying performance if you're using a tablet in lieu of powder detergent. Additionally, there's a start delay that can be set in 30-minute increments, up to 9.5 hours. A Sanitize option is noticeably missing, but the Pots and Pans cycle gets hot enough to accomplish the same goal.
Comparable Products
Before you buy the Blomberg DWT57500SS, take a look at these other dishwashers.
Performance
More than capable
The design and the features of the DWT57500SS may not strike a chord with everyone, but there's no denying the dishwasher's cleaning ability. When we ran the Regular Wash, this dishwasher left very few remains on all of our stain tests. There were instances of redeposit on items in the lower rack, which is when food stains get washed off of one item and spread to another during the wash. Still, when compared to other dishwashers, the DWT57500SS did a better job keeping it in check.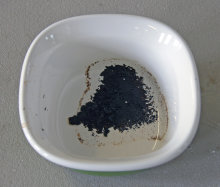 Pots & Pans Plus is the heaviest cycle on the DWT57500SS, and it holds nothing back. It absolutely demolished the same stains we used for the Regular Wash, with no traces of redeposit whatsoever. However, it did not do so well with the burnt sugar stain that we use for testing heavy duty cycles.
The DWT57500SS's Quick Wash lives up to its name, clocking in at 27 minutes. This cycle did a decent job with our stains, but nowhere near as well as the Regular Wash. This cycle sacrifices everything for speed, so you should only use it on lightly soiled items that need to be reused quickly.
Fast cycle times and low water consumption help contribute to this dishwasher's low annual cost. We estimate that it only costs $23.45 a year to run the DWT57500SS, assuming you use the Regular Wash most of the time while only using the other, less efficient cycles occasionally.
For in-depth performance information, please visit the Science Page.
Why We Like It
Has a certain European charm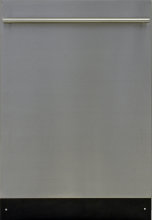 The Blomberg DWT57500SS's control panel might not resonate with everyone, but there is no denying this dishwasher's capabilities. If you want a stainless steel front, the luxuries of a third rack and interior lighting, and a fast, efficient, powerful clean, this dishwasher is a perfect fit. Some other machines let you micromanage your wash, but the DWT57500SS is geared towards simplicity: Just pick a cycle and go.
The closest equivalent we've tested is the Bosch SHX7PT55UC. The Bosch is in the same price range as the Blomberg, though we've also seen it on sale for as low as $899. Both machines are strong performers that come with a little more luxury than their prices would suggest.
If you're looking to spend even less and can live without some of the Blomberg's fancier features, the GE GDT580SMFES has a particularly strong Normal cycle that handles a wide variety of stains. Although the GE is loaded with extra wash options, they are exactly that: Extras. Similar to the Blomberg, you can just pick a cycle and run it without worrying about fiddling with water temperature or wash intensity.
Our editors review and recommend products to help you buy the stuff you need. If you make a purchase by clicking one of our links, we may earn a small share of the revenue. Our picks and opinions are independent from any business incentives.