dishwashers
Bosch dishwashers get new tech, third racks for 2017
Same great dishwashers, but with upgraded features
$989.99 at Best Buy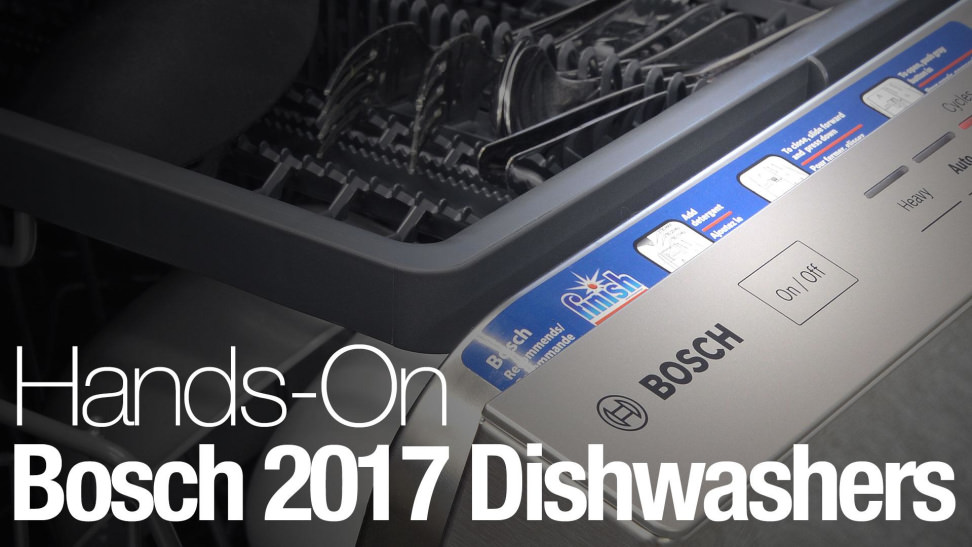 The Bosch SHXM63WS5N is better than 92% of the dishwashers we tested.
It is better than 92% of the install dishwashers we have tested.
Bosch makes some of the most popular dishwashers on the market, and our tests prove that they're also some of the best. We know that Bosch dishwashers consistently get plates clean and dry, they are water and energy efficient, and they feature designs that are both practical and elegant.
For 2017, Bosch is updating its entire dishwasher lineup to include some new features and improve a few old ones. We got our hands on one of these new models before it goes on sale in a few weeks, and we agree that it makes a great dishwasher even better.
What's New
Based on consumer feedback, Bosch changed some things up in their new dishwashers. New models dry better, fit bigger dishes, and take less time. At this point, most (if not all) of the following features can be expected on every model:
Reduced Noise – Bosch dishwashers were already pretty quiet—between 38-50 dBa, depending on the model—but now they're even softer
RackMatic – An adjustable upper rack with three different height levels, formerly available only on the 500 series and up
24/7 AquaStop – A redesigned base meant to contain leaks, complete with a sensor and pump that will shut down the dishwasher and drain water if a leak should occur at any time, not just when the dishwasher is in use
New 3rd Rack – All Bosch dishwashers get a 3rd rack, but now they've been tweaked to fit more than just silverware
Speed60 Cycle – A quick cycle that's designed to clean and dry in about an hour
ExtraDry – Raises temperatures during the drying phase for improved moisture evaporation
FlexSpace Tines – A redesigned adjustable tine format for easier loading of thicker dishes
EasyGlide Wheels – Both upper and lower racks slide in and out more smoothly
Water Softener – One of the affordable 300 Series dishwashers (MSRP $1,099) will get a water softener built in, an option normally reserved only for higher-end models
Automatic Reordering – Bosch is also introducing a connected model (MSRP $1,299) which can automatically reorder detergent using Amazon Dash whenever you run out
Bosch Did It MyWay
For the 800 and Benchmark models, consumers will get yet another boost in usability—the new MyWay third rack. Most third racks can only fit shallow items, like silverware or ramekins. This one is deeper than a typical third rack—enough for certain types of shallow dishes—and is angled to accommodate certain kinds of glassware. It also feels sturdier than every other third rack we've handled to date—including the ones we've seen on the new, more affordable Bosch models.
Our Test Results
We love how the new Bosch dishwashers feel. But to find out how well they cleaned, we had to put one through the standard lab tests we subject all dishwashers to.
We tested the SHXM63WS5N, part of the new 300 Series. It features a stainless panel and hidden controls. Final pricing info is still TBD, but the 300 Series is the least expensive apart from the basic Ascenta models. Because they're quieter and have more useful features, we expect the updated 500 and 800 Series machines to score even higher—although they also cost more.
Once again, Bosch gets the closest we've come to a perfect clean
The Normal cycle removed all but a few flecks of baked-on spinach, and the hour-long Speed60 cycle was nearly as good, which is quite a feat. The Heavy option obliterated every stain we threw at it; only two dishes showed any redeposit, and even then it was a minute amount. In other words, once again, Bosch gets the closest we've come to a perfect clean.
The SHXM63WS5N includes four cycles—Auto, Normal, Heavy, and Speed60—plus a nine-minute Rinse option. Features include a cycle delay in hour increments from 1 to 24, Half Load, Extra Dry, and a Sanitize option that can be activated on any of the three full-length cycles. It also includes adjustable tines on both the upper and lower racks, as well as the new angled 3rd rack, and a water softener.
Comparable Products
Before you buy the Bosch SHXM63WS5N, take a look at these other dishwashers.
An Easy Choice

Our tests show that Bosch dishwashers are the ones to beat, but it looks like the German manufacturer isn't resting on its laurels.
While some folks may prefer additional cycles or features beyond what's included in the SHXM63WS5N, the entry-level 300 Series should clean as well as higher-priced models with more options—including the 800 Series with the MyWay rack.
Assuming that's true—and we plan to put other models to the test to find out—it bodes well for the new 2017 Bosch lineup. So, the question isn't, "Should I get a Bosch dishwasher?" Rather, it's, "Which Bosch dishwasher should I buy?"
Our editors review and recommend products to help you buy the stuff you need. If you make a purchase by clicking one of our links, we may earn a small share of the revenue. Our picks and opinions are independent from any business incentives.