dishwashers
Bosch Integra Ascenta SHX3AR76UC Review
Thin on features, but strong on cleaning
$629.99 at Best Buy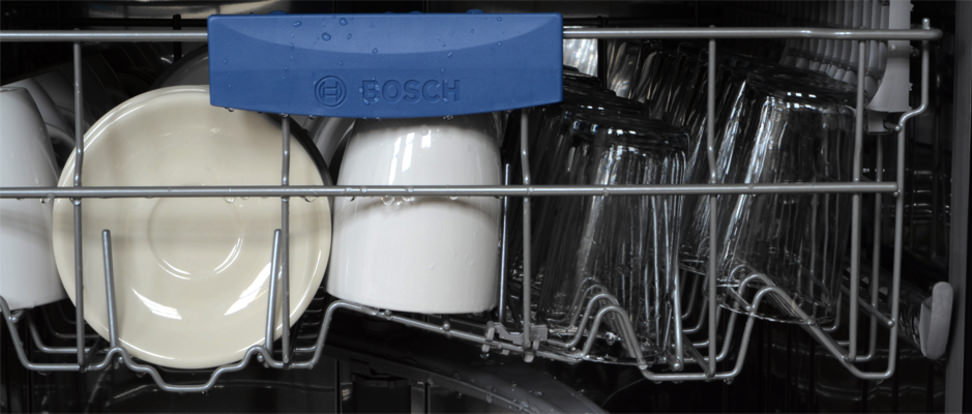 Introduction
The Bosch Integra Ascenta SHX3AR76UC may share a name with a discontinued sports car, but excellent efficiency and good performance means it's got more in common with a mid-sized hybrid. A lack of extra features means it's designed for the "set it and forget it," crowd.
Though its MSRP is $699, this Ascenta can be found for around $630, so at least that efficiency doesn't come at a premium. If you're looking for a reasonably-priced dishwasher that cleans well and doesn't cost a fortune to run, the SHX3AR76UC may be just the ride you're looking for.
Design & Usability
The best of both worlds?
While we're on the topic of cars, the SHX3AR76UC's washtub could be considered a hybrid as it contains both stainless steel and plastic parts. It's stainless steel on all sides except for the bottom, which is a dull, gray plastic.
Outside, the SHX3AR76UC is a metallic black. If you prefer white, the SHX3AR72UC is the same dishwasher at the same price, and the stainless steel SHX3AR75UC sells for between $80 and $100 more depending on sale prices.
Regardless of color, the SHX3AR76UC is meant to be flush-mounted, perfectly lined up with your kitchen cabinetry when installed, with its door handle being the only thing protruding. This means its top-mounted control panel will be hidden away under your counter so you can't accidentally press a button and end up starting a cycle. The controls themselves are pretty basic, consisting only of buttons and indicator lights, and no digital displays to tell you how long a cycle will take. In fact, the only way you can tell a cycle is done is that a chime will play. With the door closed, it's actually pretty hard to tell if the dishwasher is running.
There isn't much in the adjustability department on the SHX3AR76UC. The top and bottom racks each have one row of tines that can be folded down in case you have oddly-shaped dishware that needs to be loaded. One thing to note about the top rack, though, is that it will wheel right off its track if you pull too hard. Its only stopping mechanism is a ramp at the end of the track, but it's so smooth and its incline is so shallow that it is more like an inconvenient speed bump.
Features
A wide selection of cycle choices makes up for the lack of extra wash options.
The SHX3AR76UC doesn't look particularly fancy, and its features follow in the same vein. You do, however, get six cycles to choose from to cover the whole spectrum of dishwashing needs: Normal, Heavy, Express, Auto, Delicate, and Half Load. Normal is meant for everyday loads, Heavy is for your pots and pans, Express is for lightly-soiled items, Delicate is for sensitive crystal and stemware, Half Load uses less water and energy for when the machine is only half full, and Auto lets the machine decide how many washes and rinses a load will need based on the dishwasher's soil sensors.
As far as extra features go, the SHX3AR76UC only comes equipped with a wash delay option and a Sanitize option. The wash delay can only be set for three, six, or nine hours, making it fairly limited as far as delay options go. With so few ways to customize a wash, your interaction with the machine is as simple as setting a cycle and closing the door.
Comparable Products
Before you buy the Bosch Integra Ascenta SHX3AR76UC, take a look at these other dishwashers.
Performance
Under-the-radar performance
It's just as well that the SHX3AR76UC doesn't offer much customization; our tests found that this dishwasher does fine by default. On all of the cycles we tested, the SHX3AR76UC did not have a problem with redeposit, an unfortunate phenomenon that occurs when food particles from one plate get washed off and stuck to another.
Alas, the SHX3AR76UC had noticeable problems with the milk and oatmeal stains we put on cups and bowls placed in the top rack. Compared to other dishwashers, the SHX3AR76UC's scores with these two stains were a bit low. Even the Heavy cycle left visible chunks of oat flakes behind. Our suspicion is that items placed in the top track aren't getting enough water, and we noticed a consistent pattern where items in the center of the rack were much cleaner than ones placed further out. This happened regardless of the cycle we used.
The SHX3AR76UC is pretty fast, and you don't even need to bolt on a spoiler or paint it red.
If you're feeling a need for speed, the SHX3AR76UC is pretty fast, and you don't even need to bolt on a spoiler or paint it red. Both Normal and Heavy cycles take less than two hours to run, including drying time, and the Express only took 35 minutes! We were expecting laughably low performance scores as a result, but the Express cycle still managed to remove a good amount of dirt, and did not fare worse than many of the other quick cycles found in other dishwashers. As an added bonus, the SHX3AR76UC used very little water and electricity: We estimate an annual running cost of around $25.
Conclusion
Not the prettiest thing, but it does what it's designed for.
The SHX3AR76UC isn't flashy, but it gets the job done. That's what gets our praise. And while it's not a standout performer, this dishwasher is very well-priced for what it can do. At the end of the day, this is a machine where you can set a cycle to run and expect to come back in a couple of hours to find clean dishes. It doesn't offer much more than that, but sometimes, that's all we ask.
News and Features