dishwashers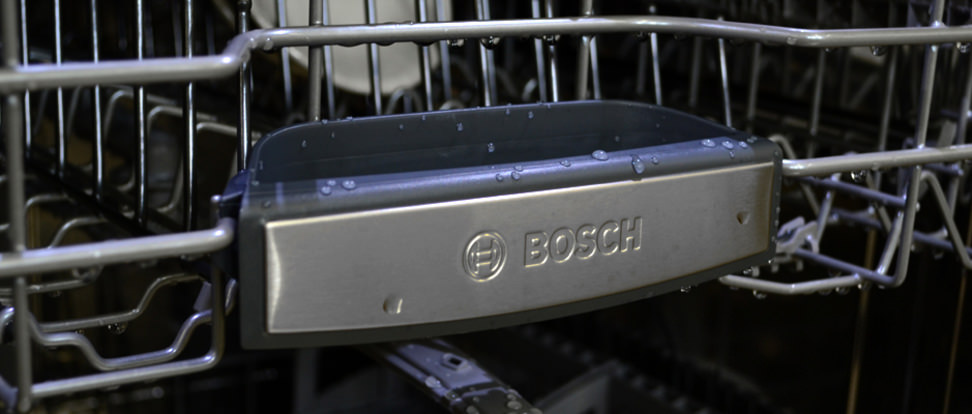 The Bosch Benchmark SHE8PT55UC is better than 100% of the dishwashers we tested.
It is better than 100% of the dishwashers we have tested under $1,500.
It is better than 100% of the install dishwashers we have tested.
Introduction
The Bosch SHE8PT55UC ($1,499 MSRP) is the flagship of Bosch's all-new dishwasher lineup and our tests prove it's one of the best dishwashers on the market today. With adjustable racks, a third rack big enough to fit serving utensils, interior lighting, and even a full-color LCD display, the only thing that's missing is the proverbial kitchen sink—but you should probably already have one of those if you're buying a dishwasher.
Features often obscure pure performance, but that's not a problem here. This Bosch's Heavy Duty cycle decimated even the most stubborn food stains, and all other cycles provided above-average cleaning and drying with below-average energy and water usage.
In our eyes, the SHE8PT55UC's only drawback is its $1,499 MSRP. While that's certainly pricey for a dishwasher, given this one's nearly-perfect performance on our stain tests, high water and energy efficiency, 40 dBA sound rating, and innovative interior, we dare say it's worth it.
Design & Usability
Adjustable racks? Check. Cutlery tray? Check. Full-color LCD display? Whoa.
The SHE8PT55UC won us over right from the start with foolproof installation. It came with its own water hose already attached, and it wires up easily through an external junction box instead of a panel hidden beneath the machine. Of course, if you don't feel comfortable with light plumbing or electrical wiring, you should still have your dishwasher installed professionally.
Once installation was complete, our eyes were immediately drawn to the full-color LCD display on the front of the dishwasher. Before you start a load, it displays helpful information and instructions like cycle and wash option descriptions, or a reminder to hit the Start button or close the door. Once a load is in progress, it switches to displaying the remaining cycle time. The controls are along the top of the door, with simple, single-button selection for all cycles and options. A digital display in the center of the controls also tells you the estimated time of the selected cycle. If you prefer your dishwasher to have a cleaner exterior, the SHX8PT55UC is nearly identical to the SHE8PT55UC, but features a bar handle and no LCD.
One of the most well-designed interiors we've encountered in a dishwasher.
The SHE8PT55UC has one of the most well-designed interiors we've encountered in a dishwasher. Overhead lights illuminate everything inside, a cutlery tray at the top provides extra loading space for silverware, and the top and bottom racks are highly adjustable.
Third racks usually cut into overall height, but that's not as much of a problem here thanks to a trick middle rack that adjusts at an angle to fit tall glassware. In addition to rows of collapsible tines, the SHE8PT55UC's top rack can be removed entirely, in case you need to fit a very tall item in there. So go ahead and put your Star Wars Yoda cookie jar inside. We won't judge you.
Features
There's essentially a "Go Faster" button on the control panel.
This powerhouse of a dishwasher comes with a dizzying array of cycles and wash options. For cycles, you have Heavy for pots and pans, Glass for sensitive items, Normal for everyday loads, Express for a fast cycle, and Rinse for a quick spray with no detergent. For a mixed load, the flexible Auto cycle uses the SHE8PT55UC's soil sensors to determine the number of washes and rinses the load will need.
While the cycles should cover every type of load you might have, the extra options let you customize your washes even further. If you find that your load is only about half full (this dishwasher makes us optimistic) a Half Load option trims down the water and electricity usage for that run. If your load is lightly soiled, the Delicate option will cut out some rinse cycles to reduce your total wash time. SpeedPerfect is an option for reducing your wash time by up to 20 minutes, at the cost of using more water and power. There's even a water softener, which ensures that too-hard water doesn't sandbag washing performance.
Rounding out the list are a couple of familiar faces: Delay lets you postpone a cycle's start from one to 24 hours, and Sanitize raises the final rinse temperature to bacteria-killing levels. And it's so quiet, we could hardly tell it was working.
Comparable Products
Before you buy the Bosch Benchmark SHE8PT55UC, take a look at these other dishwashers.
Hands-on Video
Performance
Did we mention that it washes dishes, too?
At first, we were only impressed by the SHE8PT55UC's cleaning power. When we ran the Normal cycle, we got an average cycle time of two hours and 15 minutes, with stain scores that were merely above average. Even though some minor milk, meat, and oatmeal stains remained, however, there were nearly no signs of redeposit—when soils from one dish get washed and dried onto another dish. Given how little water it consumed (2.49 gallons), we were generally pleased.
The SHE8PT55UC gave us perfect scores in nearly every stain category.
Then we ran the Heavy cycle, and jaws dropped. The SHE8PT55UC gave us perfect scores in nearly every stain category, obliterating every stain we handed it. Given the heavy amounts of soil we use for testing purposes, this rarely happens. To top it all off, the cycle took a little under two hours—an hour quicker than most of its competitors.
While we're on the topic of brevity, the Express cycle on the SHE8PT55UC only took 40 minutes. It didn't clean as well as the other two cycles we tested, but that's because it was clearly not designed to handle baked-on solids. Still, a lack of redeposit and lightning speed led to a positive appraisal.
Conclusion
If you can afford it, buy it.
Yes, $1,499 is expensive for a dishwasher, but the price includes a surprisingly intuitive LCD control panel, a lit interior, flexible racks, ultra-quiet 40 dBA operation, and a cabinet-depth fit that helps it blend into contemporary kitchens.
Most importantly, the SHE8PT55UC's performance proved worthy of its price. The Heavy Duty cycle was one of the best we've ever seen, the Quick cycle was over in the blink of an eye, and the Normal cycle cleaned with a minimum amount of water and energy. If you demand the very best, you should demand the Bosch SHE8PT55UC dishwasher.