dishwashers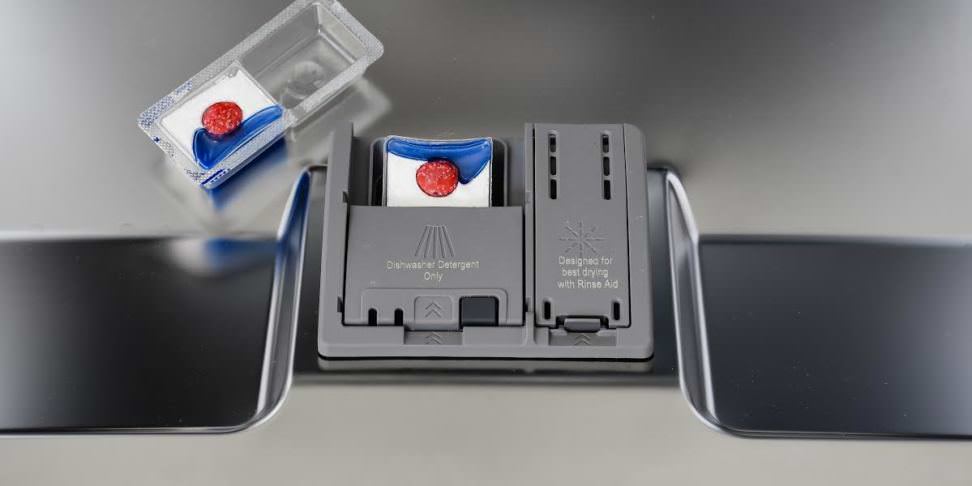 The Bosch SHP65TL5UC is better than 76% of the dishwashers we tested.
It is better than 88% of the dishwashers we have tested under $900.
It is better than 75% of the install dishwashers we have tested.
Although it's one of Bosch's more affordable dishwashers, the Bosch SHP65TL5UC (MSRP $899) offers excellent performance on many cycles. Most importantly, it's loaded with features rarely seen in dishwashers that cost under $1,000. It's one of the least expensive dishwashers to feature a third rack, for instance. If you didn't look at the price tag, you might mistake this Bosch for one of its high-end cousins.
This video was recorded inside the Bosch Benchmark, which has a similar wash system to the Bosch SHP65TL5UC dishwasher.
Design & Usability
Looks more expensive than it actually is
Bosch's newest dishwashers all can be flush-mounted with cabinetry for a built-in look. Devoid of any buttons or branding, the only thing that stands out about the SHP65TL5UC's stainless steel front is its wide, recessed handle. The dull grey plastic control panel is hidden at the top of the door. It might remind you of an old VCR with a LCD digital display and wide, rectangular buttons, but since it's hidden under the counter when the door is closed, no one has to know.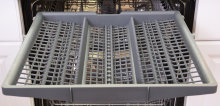 The control panel does a fine job, though. There's a button for every cycle and wash option, which makes selecting a wash easier than machines that force you to scroll through all the cycles. There's a slight delay when hitting the power button for the machine to turn on, but after that, you're about two or three button presses away from starting a load. Pretty simple.
The lower rack glides out easily enough and has a multitude of supports for plates and dishes, but none of them are adjustable. The plastic cutlery basket can be split in two, which does help in the flexibility department. The upper rack, where you normally load cups and glasses, has two rows of supports that can be folded down. The entire upper rack can also be lowered or raised to accommodate tall items.
The SHP65TL5UC also has a third rack above the traditional upper rack. This is a slide-out tray with slots for silverware, leaving you the option to remove the cutlery basket entirely and make more room on the lower rack. This third rack is usually a feature only seen on higher-end dishwashers, so we're very pleased to see it here. By adjusting the middle rack, you can still get enough clearance for tall glasses.
Features
Micromanage your dishwasher
The SHP65TL5UC does not hold back on the features. The Normal cycle handles everyday soil levels, while the Heavy cycle takes care of the dried and baked-on stains usually found on bakeware. The Auto cycle can handle a mixture of both. For those who need a fast wash, the Express cycle finishes in under an hour. Finally, for a quick spray without using any detergent, there's a Rinse cycle that takes about 10 minutes.

Options to customize a wash include Delicate, Sanitize, SpeedPerfect, and Extra Shine. While the first two can be found on other dishwashers (Delicate is for fine glassware, and Sanitize gets hot enough to kill most bacteria) SpeedPerfect is an option that speeds up a cycle but uses more water, and Extra Shine is used to extend the drying time of a cycle to prevent spotting. There is also a Delay that can be set from 1-24 hours.

One last neat feature about the SHP65TL5UC is something called InfoLight. This is a beam of red light that shines at the floor when a cycle is in progress, letting you know at a glance if the machine is still in the middle of a cycle or if it's done. While not exactly groundbreaking, this is a clever way for a dishwasher to indicate useful information without using a forward-facing display. It's so quiet, the light might be the only way you know it's working.
Comparable Products
Before you buy the Bosch SHP65TL5UC, take a look at these other dishwashers.
Performance
The Heavy cycle is exceptional.
The SHP65TL5UC's Normal cycle did a good job removing food stains but for one issue: redeposit. That's when food gets washed off one dish and onto another, and its particularly a problem with spinach and other leafy greens. Still, the cycle only took about two hours, which is about average, and cleaned almost everything else.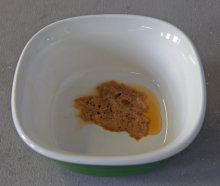 The Heavy cycle, however, was perfect. It also took only about two hours, but picked up the slack of the Normal cycle. Redeposit was no longer an issue, and nearly every test stain got removed. The only exception was the baked-on cheese, which you'd likely scrape off anyway.
Fast cycles usually sacrifice power for speed, but we found the Express cycle to come pretty close to the Normal cycle, performance-wise. The cycle used slightly more water, but was over in less than an hour. Although redeposit was less of an issue, the Express had problems removing the milk and egg stains, which are typically thicker stains and more difficult to remove.
The overall water usage of the SHP65TL5UC is fairly low. Factoring in electricity costs and the average American's dishwasher usage patterns, we expect the SHP65TL5UC to cost you about $27.61 a year to run, which is about $4 below average.
For in-depth performance information, please visit the Science Page.
Conclusion
The most features in its price range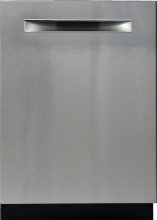 If you're looking for value, the SHP65TL5UC's got it. On sale, you can snag one for around $810, and for that money you'd be hard pressed to find another dishwasher that has the same combinations of features and performance. An exceptional Heavy cycle, a third rack, and a wide selection of cycle and customization options make this dishwasher a solid purchase, and your neighbors will think you spent twice as much.
The closest dishwasher we can compare it to within the Bosch family would be the SHE68TL5UC, which is a bit pricier. Cleaning performance is similar, but the SHP65TL5UC offers the same features at a lower cost.
If you're not particularly loyal to Bosch, then we recommend checking out the GE GDT580SMFES. It's cheaper and has a very strong Normal cycle, with the drawback of having no fast cycle option. And if all you care about is cleaning, save a few hundred bucks and grab the Whirlpool WDT710PAYM. It sells for under $500 and cleans just as well, though it lacks a third rack and luxurious features.
News and Features