dishwashers
Bosch Ascenta SHX4AT75UC Dishwasher Review
A Bosch, on a budget.
$699.00 MSRP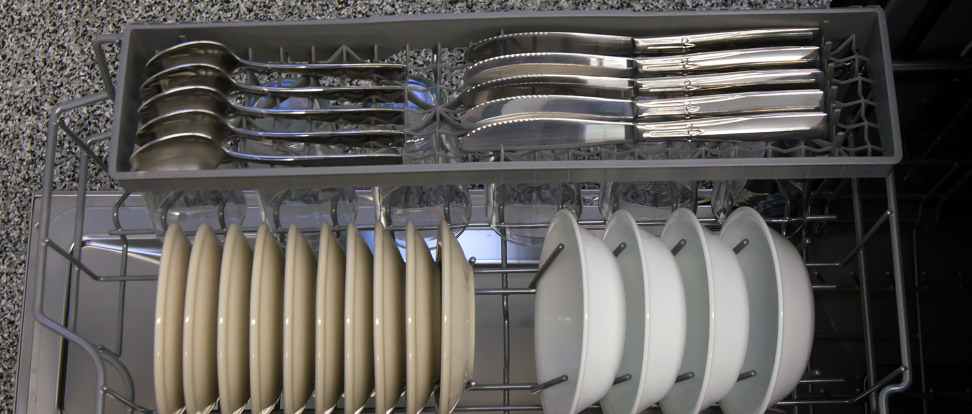 The Bosch SHX4AT75UC (MSRP $699) is a simple dishwasher that gets right to the point, so it's only fitting that this review do the same. As part of Bosch's Ascenta line of lower-cost machines, the SHX4AT75UC focuses on a strong washing performance while offering just enough extras to make it stand out from the crowd.
With sale prices around $630, this Bosch makes a good choice for buyers who don't need too many fancy features from their dishwasher.
Design & Usability
A little something extra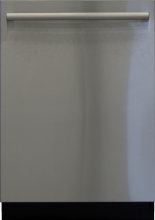 The SHX4AT75UC's stainless steel front is devoid of any logos or branding, which helps it blend in to any kitchen. Of course, if you really want to show off this Bosch, all you have to do is open the door. With a two-piece cutlery basket and a good selection of foldable tines, the SHX4AT75UC's interior doesn't look particularly entry-level. The only thing that gives it away is the plastic bottom, but the rest of the walls are stainless steel.
Another unique feature of the SHX4AT75UC's interior is the long shelf on the left side of the upper rack. There's enough space there for a few pieces of silverware, and it also looks like an ideal spot for loading long, thin items like chopsticks, which tend to fall through silverware drawers. It's sort of like having a third rack, but without the added cost. We were able to fit 11 place settings and a serving setting inside the SHX4AT75UC.
Other neat perks with the SHX4AT75UC include height adjustment for the upper rack and a red light that beams on the floor (called InfoLight) to let you know when it's running. Since the front is completely blank and the machine is rather quiet, that red light is the only way you'll know it's running.
Features
No quick cycle, just a "Go Faster" button
There aren't very many cycles or options to choose from on the SHX4AT75UC, so it's a good thing they cover a wide range of washes. The four cycles are Heavy, Auto, Normal, and Rinse; a Quick cycle is noticeably absent.

To compensate, the SHX4AT75UC has customization options to give you more control. Half Load and Delicate let you lower wash intensity, Sanitize increases the temperature of the final rinse to bacteria-killing levels, and Speed Perfect can shave up to 30 minutes off a wash. By combining these options with the basic cycles, you should be able to create an equivalent of a "Fast" or "Light" cycle found in other dishwashers.
Comparable Products
Before you buy the Bosch SHX4AT75UC, take a look at these other dishwashers.
Performance
Suited for everyday loads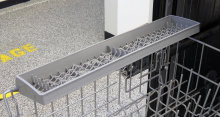 Despite entry-level trappings, the SHX4AT75UC delivers where it matters most. Its powerful Normal cycle posted excellent scores on our tests, leaving very few remains of dried oatmeal and milk—two of our toughest stains. More importantly, there were very few instances of redeposit, which is when food particles are washed off of one plate and stuck to another during the wash.
The Heavy cycle is designed for more difficult messes, such as the baked-on stuff you'd find on cookware. Once again, redeposit wasn't a problem. This cycle dutifully removed all of the dirt from our lasagna test, but didn't do as well with burnt cheese and burnt sugar.
With no Quick cycle, you'll probably find yourself using the Normal cycle more often, and perhaps even engaging the Half Load or Delicate features to cut some time off the wash. We estimated the annual utility cost of the SHX4AT75UC to be about $26.07.
For in-depth performance information, please visit the Science Page.
Why We Like It
That perfect fit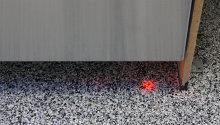 Most people don't ask for much from a dishwasher: It should fit in nicely with the rest of the kitchen, and it should wash dishes competently. Everything else is just icing on the cake.
The SHX4AT75UC more than meets those basic requirements, but goes the extra mile with its InfoLight, adjustable rack height, and an unobtrusive fold-down shelf on the upper rack that can serve as a third rack.
For its price, the SHX4AT75UC is a good bargain, but not necessarily the best. Whirlpool's WDT710 series features an all-plastic tub, but the exterior can be had in stainless, and sale prices tend to fall below $400.
If you want more control over your cycles, the Frigidaire Gallery FGHD2465NF might be a better fit. Both dishwashers have the advantages of a logo-free, stainless steel front and strong cleaning cycles. The Frigidaire's interior is entirely plastic, however, and lacks that pseudo-third rack.
News and Features