dishwashers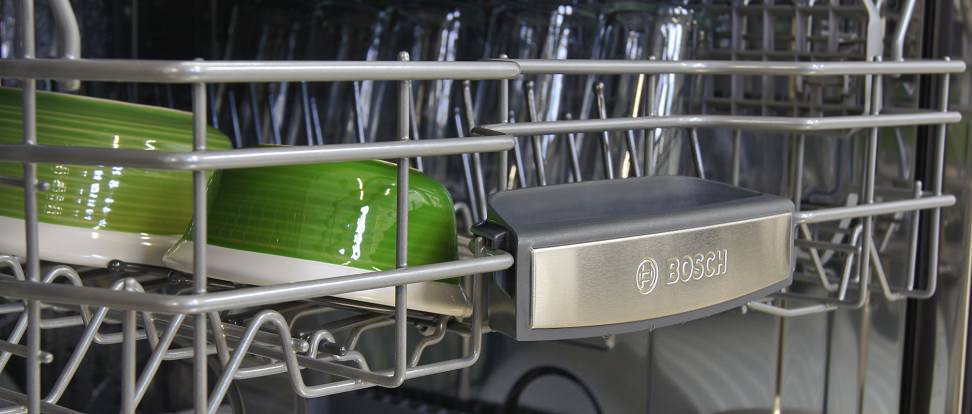 The Bosch SHX7PT55UC is better than 51% of the dishwashers we tested.
It is better than 53% of the dishwashers we have tested under $1,500.
It is better than 51% of the install dishwashers we have tested.
There are several variations of the Bosch SHX7PT55UC. These include the Bosch Benchmark Series SHP7PT55UC and Bosch Benchmark Series SHV7PT53UC. They are very similar to the Bosch SHX7PT55UC in most respects.
Like every product we've tested in Bosch's new dishwasher lineup, the Bosch SHX7PT55UC (MSRP $1,299) is a competent performer that impresses with thoughtful design and some useful features. This one even has TimeLight, which projects the time remaining on a cycle onto the floor beneath the dishwasher door.
A $1,299 MSRP might sound high, but we've seen this one on sale for as low as $899. For that kind of money, a Bosch dishwasher could easily add a bit of accessible luxury to your kitchen.
Design & Usability
Not Just Attractive, But Bright
The SHX7PT55UC's monolithic stainless exterior would blend into any modern kitchen. In fact, the panel-ready version of this dishwasher—the SHV7PT53UC—can be completely hidden with cabinets. If you don't like the look, check out similar machines in the Bosch 800 Plus series.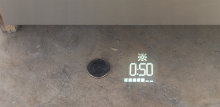 This dishwasher is so quiet, you might not realize it's working; Many of Bosch's dishwashers beam a red light on the floor beneath the machine so unsuspecting kitchen users don't open a still-running dishwasher by mistake. For 2013, the company updated its high-end machines with TimeLight, which replaces the red dot with a countdown timer. In addition to the convenience factor, we're confident that cats will love it.
On top of the dishwasher is a touch screen and display panel that are both hidden when the door closes. Like all new Bosch dishwashers, there's a spot in the handle for putting detergent tablets.
Inside, there are three smooth-gliding racks, including an adjustable top rack that still allows wine glasses to fit below. Many tines fold down to fit larger items, and three plastic clips keep lightweight items from getting moved around during the wash. A cutlery basket can be split in two, joined together lengthwise, or put back-to-back for maximum flexibility. You can also take the middle rack out and attach a sprayer to wash extra-tall items like large vases and coffee urns.
Features
It will use as much water as you tell it to
The SHX7PT55UC is a remarkably efficient washer. We estimate that it will cost the average household about $20 a year to run. There are some options that let you adjust your water and energy use, such as Delicate and Half Load for saving resources on lighter washes. There's also SpeedPerfect, which makes for a faster—albeit less efficient—cycle for when you need your dishes in a hurry.

That's in addition to the six traditional wash cycles on offer, including Heavy, Auto, Normal, Express, Rinse, and Glass. Aside from adjusting wash intensity, users can also delay a cycle's start for 1-24 hours and add a sanitizing final rinse to kill germs on their dishes.
Comparable Products
Before you buy the Bosch SHX7PT55UC, take a look at these other dishwashers.
Performance
Decent by default, but could use a boost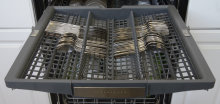 Overall, the SHX7PT55UC on default settings did not perform much differently from a mid-range dishwasher. Its Normal cycle removed the meat, egg, margarine, and dried milk stains without any problems. This is good, because these are some of the most common kinds of soils an average user encounters. The main problem was redeposit, which is when stains from one dish gets washed off and stuck to another.
Redeposit was most obvious during the SHX7PT55UC's Express wash. It fulfilled its promise of a fast cycle, finishing in under 40 minutes, but left traces of stains behind. Far from perfect, we would only recommend using this for lightly soiled dishes, and never for anything left out for too long.
The Heavy cycle is an enhanced version of the Normal cycle, boasting a faster cycle time with nearly no traces of redeposit. Even the baked-on spinach, the source of the redeposit, was mostly removed. Unfortunately, this cycle faltered with the burnt sugar and baked-on cheese tests, which are two tough stains we use specifically for testing heavy duty cycles. On default settings, the Heavy cycle couldn't muster the power to remove these sticky stains.
For in-depth performance information, please visit the Science Page.
Why We Like It
A little luxury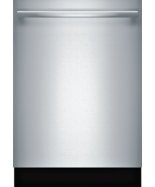 Nobody likes washing dishes. That's why we're so pleased to see luxurious touches on the Bosch SHX7PT55UC like smooth-gliding racks, plenty of cycle choices, and even a projector that beams cycle information onto the floor beneath the machine.
That luxury is relatively affordable, too. We've seen the SHX7PT55UC on sale for around $899. Even better, this Bosch will get your dishes clean, and won't look out of place in a high-class kitchen.
If you like this machine but are looking for something more affordable, check out the Bosch SHP65TL5UC—a similar machine that lacks a few features. The only major feature it lacks is TimeLight, and it sells for $809 on sale.