dishwashers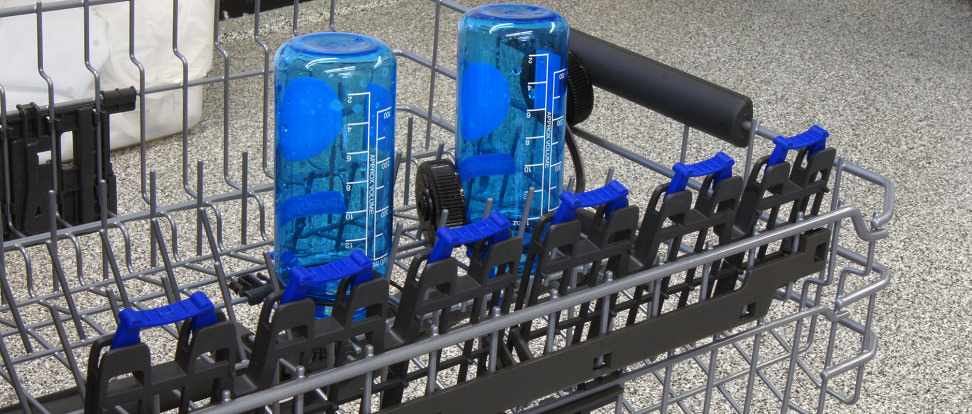 The Electrolux EI24ID30QS is better than 48% of the dishwashers we tested.
It is better than 80% of the dishwashers we have tested under $800.
It is better than 45% of the install dishwashers we have tested.
The Electrolux EI24ID30QS (MSRP $793) is one of the brand's newest dishwashers. It's essentially a trimmed-down version of the high-performing Electrolux EI24ID50QS, one of the best dishwashers we've ever tested.
When it comes to pure performance, the two are nearly identical. Both are equipped with Electrolux's SatelliteSpray circular spray arm, bottle washer jets, and silicone stemware holders. Their exteriors are both blank slates of stainless.
The 30-series dishwasher, however, costs about $200 less than the 50-series, and is a good option if you don't need fancy interior lights or nine wash cycles to choose from. Depending on sale prices, it may even be a better value than the also-excellent Frigidaire FGID2474QS, which shares a similar design with both new Electroluxes.
Design & Usability
Some of the form, all of the function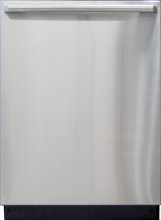 If you put the two IQ-Touch dishwashers next to each other, you wouldn't be able to tell them apart. Both have a blank, stainless steel door with no logos, and both have the same thick, protruding handlebar. While this means there's no display to tell you when the machine is running or how much time is left in the cycle, the EI24ID30QS will shine a blue light on the floor when it's done.
The control panel is hidden on top of the door, with a button for each cycle and wash option. Unfortunately, the touch-activated buttons aren't very sensitive or responsive.
This dishwasher also contains the same SatelliteSpray wash arm, bottle washer jets, and flexible vinyl stemware holders all found on the pricier EI24ID50QS. The upper rack's height can be adjusted simply by lifting it until it clicks—No need to pull any levers or handles. We could comfortably fit 11 place settings and a serving setting inside the EI24ID30QS. The only things missing were interior lights and a third rack.
Features
Narrow and focused
The EI24ID30QS is tailored for buyers who want simplicity more than the ability to micromanage. The only cycles found here are Auto, Heavy, Normal, Fast, and Rinse. Just hit the button that corresponds to the kind of wash you want, press Start, and come back in a little while.

Your customization choices include two ways to raise the wash temperature, including a Sanitize option. Max Dry extends the drying period, and Air Dry saves you some power. Finally, a simple Delay feature lets you postpone when a wash starts for 2, 4, or 6 hours.
Comparable Products
Before you buy the Electrolux EI24ID30QS, take a look at these other dishwashers.
Performance
Takes its time, but gets results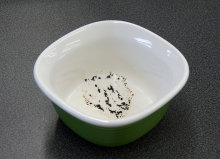 Other than a small problem with burnt sugar on the EI24ID30QS's Heavy cycle, this dishwasher's performance was great. One of our tests involves loading baked-on spinach into the wash to see how well the machine filters out the green, leafy particles without sticking them to other dishes. The Normal and Heavy cycles did better than simply prevent the spinach from being redeposited: These cycles removed over 99% of the green stuff entirely.
In fact, the EI24ID30QS's Normal cycle is one of the best we've seen. This cycle scored perfectly on our baked-on egg and oatmeal tests in addition to nearly obliterating the spinach stains. Our only gripe is that the cycle takes a little over two hours, which is a bit on the slow side.
If speed is what you need, the Fast cycle clocks in at 30 minutes. Unfortunately, you'll want to save this one for light stains only. Our tests showed that this cycle can't handle stuff that's been baked on or left overnight, with dried milk and meat scores being especially low.
Although we found the EI24ID30QS's Heavy cycle to use a bit more water than most other dishwashers, the overall water and power consumption of the machine is about average. We estimate that this dishwasher will cost you about $28.37 a year to run.
For in-depth performance information, please visit the Science Page.
Why We Like It
Nothing too fancy, but it gets the job done.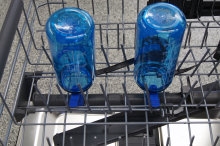 If you're scouting for dishwashers in the EI24ID30QS's price range, chances are you just want something that blends into the kitchen and gets dishes totally clean. You're not looking for a fancy LCD screen or a control panel with more buttons than your average video game controller.
The EI24ID30QS not only delivers a strong cleaning performance, but its stainless steel front and thick handlebar gives away that it's a dishwasher without giving away that it's an Electrolux. If you're going for a minimalist look or just don't like logos, this machine is a great choice.
Other dishwashers that compare to the EI24ID30QS includes the Frigidaire Gallery FGID2474QS, which costs less and includes many more cycles and wash options to choose from. Alternatively, the affordable Bosch Ascenta SHX4AT75UC might interest you with its pseudo-third-rack and Speed Perfect option.
Our editors review and recommend products to help you buy the stuff you need. If you make a purchase by clicking one of our links, we may earn a small share of the revenue. Our picks and opinions are independent from any business incentives.