dishwashers
Electrolux EIDW5705PS Review
A serious look, a serious clean, and a seriously high price.
$899.00 MSRP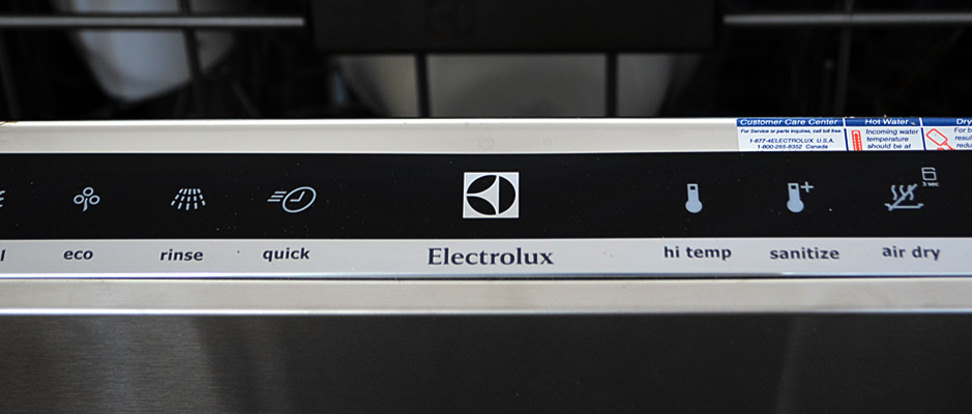 Imagine spending $50,000 on a car and then finding out it has roll-down windows and a cassette player. That's about how we feel about the Electrolux EIDW5705PS (MSRP $899). You're definitely getting an attractive shell and a strong cleaning performance for that price, but it lacks the additional perks that usually come packaged with such a hefty price tag.
Design & Usability
Professional on the outside, but plain on the inside.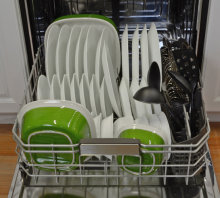 You can't fault the EIDW5705PS's looks. Its stainless steel exterior and thick, protruding handlebar give the machine an industrial, no-nonsense feel. The touch-sensitive controls are mounted on the top of the door, and each option is clearly labeled with its name and a large icon.
Sadly, the professional façade fades away when you open that door. The good news is that the washtub itself is stainless steel, and there's plenty of room. Unfortunately, the racks feel distinctly low-end. They are sticky and stubborn, and lack flexibility. The two rows of tines furthest back on the bottom rack can be folded down, and the top rack can be raised or lowered in case you have a tall item on the bottom rack. There's a pair of fold-out cup shelves, and that's it. There's nothing wrong here, but we were hoping for a little bit more customizability from a machine with such a high upfront cost.
Features
Some interesting naming conventions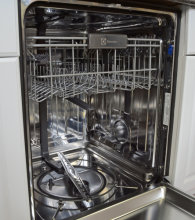 The EIDW5705PS pretty much advertises all of its features on its control panel. You have six wash cycles to choose from: Rinse, Normal, Heavy, Quick, Eco, and Auto. While the first four are pretty self-explanatory, the Eco and Auto cycles don't exactly do what their names suggest. According to the user manual, Eco is for lightly soiled china and crystal, essentially making it a Delicate cycle. The Auto cycle sounds like it might be a sensor-based cycle, but the manual described it as, "a fast wash for lightly soiled dishes and silverware." It's a bit confusing, especially if you didn't read the manual.
To add some customization to your wash, there are a handful of additional options. Hi-Temp Wash raises the main wash temperature, which is helpful in removing tough stains. Sanitize raises the temperature in the final rinse high enough to kill bacteria. By default, all cycles have a heated drying cycle at the end. The Air Dry option will skip that, in case you want to save some energy and shave some time off a wash cycle. Finally, a Delay that can be set from one to 24 hours and a Control Lock round out the EIDW5705PS's list of features.
Comparable Products
Before you buy the Electrolux EIDW5705PS, take a look at these other dishwashers.
Performance
The cleaning performance is just shy of perfect.
The EIDW5705PS was a very strong performer, showing that the industrial looks aren't just for show. Its Normal cycle did an incredible job across all stains, removing 99.7% on all stains except spinach and lipstick. This cycle definitely has regular, everyday loads completely covered. The major drawback? A cycle duration of two hours and 11 minutes, which is a bit longer than we'd like. Users who want a faster run might want to try using Air Dry to skip the drying cycle.
The industrial looks aren't just for show.
The Heavy cycle did an even better job on the same stains, with scores that were even closer to perfect. However, both Normal and Heavy shared a similar problem during our testing: In many instances, the machine was able to remove original stains, but replaced them with soil transferred from other items. This is called "redeposit," and was noticeable enough to hurt the dishwasher's scores. Still, a cycle duration of only two hours and 13 minutes is impressive.
The Quick cycle clocked in at 63 minutes with results that were very similar to the Normal cycle. Even though fast cycles are generally designed with light soils in mind, the EIDW5705PS's Quick cycle managed to remove 99 percent of the baked-on oatmeal stains, which is a particularly tough test. We were also surprised to find that the Quick cycle used less water and electricity than the Normal, which means this might actually be a better choice for everyday loads. Overall, the EIDW5705PS is a bit below average when it comes to water and energy consumption, with an estimated annual cost of $30.43.
Conclusion
Nothing beats its looks, but there are better bargains.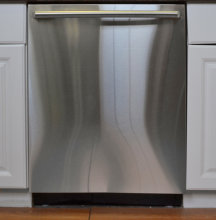 If good looks and a strong cleaning performance is all you're looking for, the EIDW5705PS might be a good fit. It has a distinct, industrial design that very few dishwashers match, and can really go a long way to adding a professional look to your kitchen. Its Heavy Duty cycle is also pretty quick, and its Quick cycle is good enough to be used on a regular basis. Still, we can't shake the feeling that we're not getting our full money's worth. For $900, we've seen dishwashers with cutlery trays, more flexible interiors, and more extra wash options.
There's a similar dishwasher that won't cost as much: the Frigidaire Gallery FGHD2465NF. It also features an attractive stainless steel exterior while being a strong performer, but comes equipped with a wider range of options.
Our editors review and recommend products to help you buy the stuff you need. If you make a purchase by clicking one of our links, we may earn a small share of the revenue. Our picks and opinions are independent from any business incentives.