dishwashers
Frigidaire Gallery FGID2474QF Dishwasher Review
Impressive cleaning. Impressive value.
$693.00 MSRP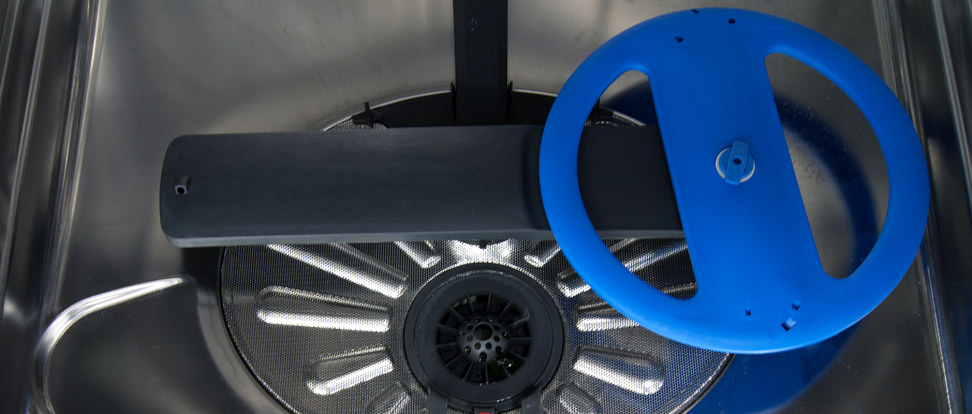 The Frigidaire Gallery FGID2474QF is better than 42% of the dishwashers we tested.
It is better than 81% of the dishwashers we have tested under $700.
It is better than 39% of the install dishwashers we have tested.
If you're remodeling a kitchen on a limited budget, chances are the dishwasher might fall far behind countertops and cabinets on your list of priorities. Most folks will settle for anything that doesn't look like an eyesore.
The Frigidaire Gallery FGID2474QF (MSRP $693) not only looks good, but our tests showed that it can clean dishes remarkably well. If you buy it, you definitely won't feel like you're settling.
For under $700, you get a dishwasher that's stainless steel inside and out. It also comes equipped with Frigidaire's superb OrbitClean circular spray arm, and plenty of settings for wash pressure and temperature. For dishwashing micromanagers, this Frigidaire is a dream come true.
This video was recorded inside the Frigidaire Gallery FGID2466QF, but it has the same OrbitClean spray arm as the FGID247QF.
Design & Usability
Green means done.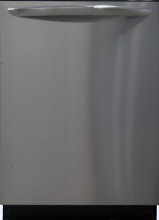 Devoid of branding or logos, the FGID2474QF's stainless steel front will fit into any kitchen. Not only does this give it a clean look, but the flat, even surface is easier to clean, as well. Do keep in mind that Frigidaire's so-called "smudge free" stainless trends a bit darker than other manufacturer's metallic finishes, though.
A blank front means no external display, but the FGID2474QF beams a green light on the floor when a cycle is complete.
The interior hosts Frigidaire's OrbitClean circular spray arm. It spins at the end of the washarm on a secondary axis, like a planet's moon, and helps clean items that are hidden away in corners.
There are many dishwashers that allow you to adjust the height of the upper rack, and the FGID2474QS is no exception. However, this Frigidaire lets you do it without levers, buttons, handles or switches—you simply lift the entire rack until it clicks in place, and lift it again to lower it.
The upper rack has a few unique features. Like the pricier Electrolux EI24ID50QS (which is made in the same factory as this Frigidaire), silicone supports keep glasses and mugs from sliding around, and a set of flexible vinyl stemware clips firmly grip your delicate glassware. In total, we were able to fit 11 place settings and a serving setting inside the FGID2474QF.
Features
So many choices!
Some people are control freaks, but rarely does a dishwasher give them the opportunity to change how their dishes get cleaned. The FGID2474QF has three settings for wash pressure (Scour, Surge, and Spray) and three options for wash temperature (Sanitize, Hi Temp, and Normal).
You can also set whether the machine will dry dishes using a heating element or a fan. The latter allows for an accelerated air dry that won't melt your plastics.

And we haven't even gotten to the cycles: Power Plus, Normal Wash, Quick Wash, China Crystal, Energy Saver, and Rinse Only. Between these cycles and the wash options, there is a combination for every kind of load. As an added bonus, the FGID2474QF's Favorite Cycle lets you save one of those combinations for easy access.
Comparable Products
Before you buy the Frigidaire Gallery FGID2474QF, take a look at these other dishwashers.
Performance
Nuke it from Orbit!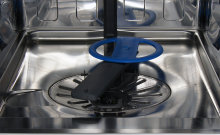 Thanks to OrbitClean, the FGID2474QF delivered a very strong cleaning performance without using any more water than the average dishwasher. We also noticed that on Normal Wash and Power Plus, there were virtually no instances of redeposit—the official name for when food gets washed off dirty dishes and onto clean ones during a wash.
In fact, the Normal Wash removed most of the spinach we use to test for redeposit. Even the sticky oatmeal and dried milk stains were almost completely gone. The Power Plus cycle did even better with these stains, as well as with the burnt sugar, burnt cheese, and baked-on lasagna we threw at it. It was as if the food stains were obliterated with a tactical orbital bombardment.

The Quick Wash took exactly 30 minutes, living up to its name, but the results were nothing like a precision strike. Some fast wash cycles can get away with tougher stains, but the FGID2474QF's Quick Wash can really only handle light stains.
As far as efficiency goes, the FGID2474QF is about average in water and power consumption. We estimated a total annual cost of $28.08 a year to run this Frigidaire.
For in-depth performance information, please visit the Science Page.
Why We Like It
A fashionable exterior hides powerful performance.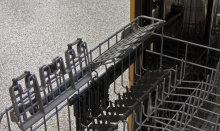 It can be difficult to find a dishwasher that offers superb cleaning power, customization options, and an inoffensive design for under $700. That's why we wholeheartedly recommend the Frigidaire FGID2474QF.
If the Whirlpool WDT710 series doesn't have enough features for you, this Frigidaire is a great step up.
Only slightly more expensive than our best budget pick, the FGID2474QF adds extras like silicone stemware holders, an auto-adjust top rack, and a stainless steel interior. You can customize a wash or leave it alone, and you even get two options for drying dishes.
On top of all that, it does a great job cleaning, too. That's why this Frigidaire gets our recommendation.
Our editors review and recommend products to help you buy the stuff you need. If you make a purchase by clicking one of our links, we may earn a small share of the revenue. Our picks and opinions are independent from any business incentives.