dishwashers
GE Cafe CDT725SSFSS Dishwasher Review
Bottle wash and so much more
$1,199.00 MSRP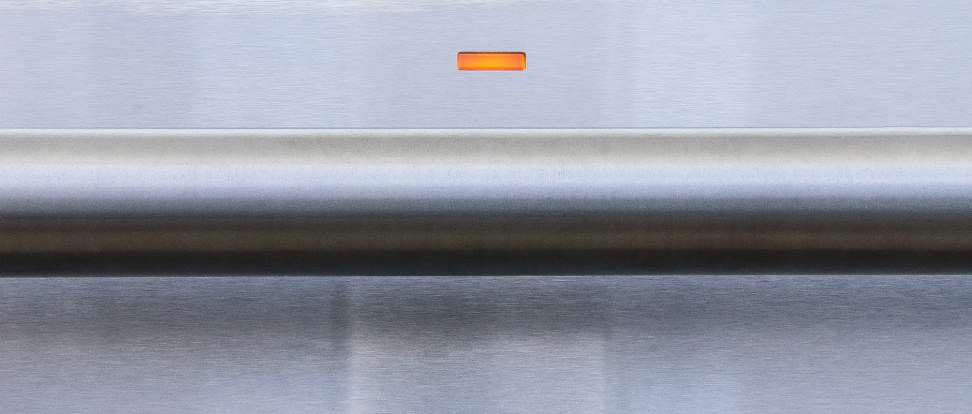 When it comes to high-end dishwashers, the GE Café CDT725SSFSS (MSRP $1,199) is a bit of an anomaly. It features GE's superb bottle wash system, spray jets all over the interior, and a four-blade wash arm that reverses for extra coverage. It lacks, however, a third rack and a Quick Wash cycle, which are frequently found in dishwashers in this price range.
Still, the Cafe does deliver where it matters most: This powerhouse of a dishwasher cleaned just as well as machines costing up to $300 more.
Design & Usability
Bold red trim makes this dishwasher stand out.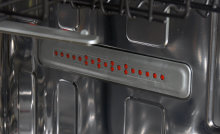 The CDT725SSFSS is a competent machine, and it certainly looks that way. The stainless steel front features a thick protruding handlebar, giving the whole dishwasher a solid, industrial feel in line with the rest of GE's Café series. The top-mounted control panel houses a blue LCD screen and responsive buttons that click satisfyingly when pressed. Inside the stainless steel tub, the numerous water nozzles are capped in bold, race-car red.
Not only does it look good, but the CDT725SSFSS's interior is also very flexible. The cutlery holder can be separated into three baskets, some of the tines on both racks can be folded down, and the height of the upper rack can be adjusted. Additionally, there are two stemware shelves on the upper rack that are designed to keep the delicate glassware from moving during a wash. There was enough room to hold 11 place settings and a serving setting inside the CDT725SSFSS.
Of course, the most noticeable design feature on this dishwasher is the sheer number of spray nozzles in the tub. Jets line the side walls, cover the wash arms, and sit pointing upwards on the upper rack. That last set of nozzles is GE's latest dishwasher innovation, the bottle wash jets, which are specifically designed for washing the inside of containers.
Features
A quick cycle is noticeably missing.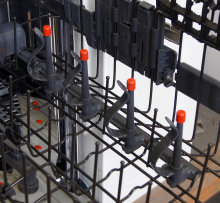 The CDT725SSFSS doesn't skimp on the extra wash options. You can add a Steam prewash to loosen up tough, baked-on stains or food that's been left out overnight. There are two options for raising the water temperature: Boost and Sani, the latter of which raises the temperature to bacteria-killing levels. Finally, you can engage the Bottle Wash spray jets, use Heated Dry to add extra drying time, use Wash Zones to limit the wash to just the upper or lower racks (to save water and power when the dishwasher is only half-full), and set a start delay between 1-12 hours.
There's also a decent selection of wash cycles: Light, Normal, Heavy, AutoSense, and Rinse. This is enough to cover any sort of load—Just pick the cycle that matches your soil level, and you're good to go. If you're not sure, just select AutoSense, and the CDT725SSFSS should adjust the time of washes and rinses using its soil sensors.

With such a wide selection, it's all the more strange that there's no quick cycle. The fastest one would be the Light cycle, which only takes an hour, but it's designed more for gently washing delicates than powering through stains as quickly as possible.
Comparable Products
Before you buy the GE Cafe CDT725SSFSS, take a look at these other dishwashers.
Performance
Cleaning power pushes this machine over the top.
If the smart looks and flexible racks aren't enough to sell you, the CDT725SSFSS also posted great scores on our cleaning tests. Very little of the common food stains, such as egg and milk, were left behind after the Normal wash. In fact, the Normal cycle removed all traces of meat we loaded into the tub. This cycle only took 90 minutes to run, which is pretty fast for a Normal cycle.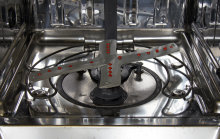 The Heavy cycle left nearly nothing behind, doing a thorough job on every test stain we threw inside. This included the sticky oatmeal and egg stains that the Normal cycle couldn't completely remove. We also loaded burnt cheese, burnt sugar, and baked-on lasagna when we tested the Heavy cycle, and those came out clean as well.
The most impressive part: None of the food particles had been sprayed to other items. That problem, known as "redeposit," commonly appears on high-end and entry-level dishwashers alike. We did notice, however, that the upper rack had some trouble with coverage. On both cycles, the glasses we loaded on the corners of the top rack weren't as clean as items placed elsewhere, showing that they weren't getting enough water.
As far as efficiency goes, the CDT725SSFSS's water consumption is very slightly above average, although it didn't hurt the overall efficiency score. In total, we estimated a yearly cost of $25.52, where most dishwashers on the market cost closer to $30 a year to run.
For in-depth performance information, please visit the Science Page.
Conclusion
The perfect middle ground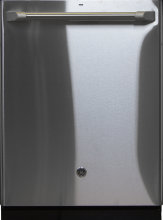 The GE Café CDT725SSFSS is a solid dishwasher with good cleaning power and a healthy selection of wash options. On sale for $1099, it's still a bit on the pricey side, but for the money you get an attractive look, excellent cleaning power, and, of course, those convenient bottle wash jets for rinsing out your sports and baby bottles.
For only $100 more, you could get the GE Profile PDT750SSFSS instead. Though it boasts a different aesthetic than the Café, the Profile offers more cleaning cycles, including the 30-minute Express cycle this Café lacks. It also comes with a ninja front-facing display that blends in seamlessly with the rest of the stainless steel door.
If you're looking to spend less (and really, who isn't?), then downgrading to the GE GDT720SSFSS is also a fine choice. About $150 cheaper than the Café and $250 less than the Profile, this GE might lack extras like a Rinse cycle and a blue, backlit LCD screen, but is otherwise an excellent performer.
Our editors review and recommend products to help you buy the stuff you need. If you make a purchase by clicking one of our links, we may earn a small share of the revenue. Our picks and opinions are independent from any business incentives.