dishwashers
We tested an old-school dishwasher that gets dishes clean AND dry
The GE GDF610 is affordable, has a ton of features, and gets dishes both clean and dry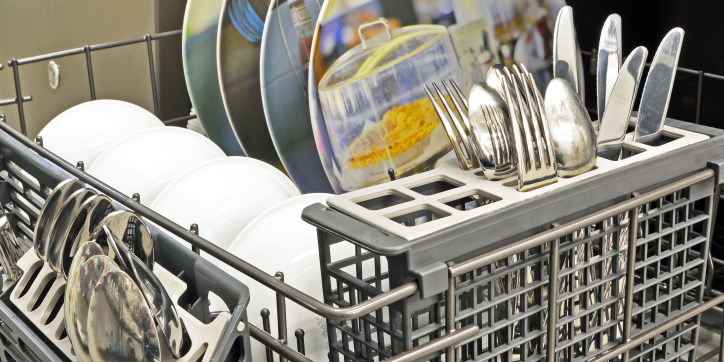 Credit: Reviewed.com / Matthew Zahnzinger
The
GE GDF610P
is better than
53%
of the
dishwashers
we tested.
About the GE GDF610PSJSS
Conventional stainless steel costs more than white or black, but it's still affordable—about $450 on sale. It's about $50 more than white or black.
About the GE GDF610PGJBB
Available in basic black, this option costs the same as the white model—about $399 on sale. It's about $50 less than stainless or slate.
About the GE GDF610PMJES
GE's special slate finish may not appeal to folks who don't already own other GE appliances, but it costs the same as stainless—about $450 at its cheapest. It's about $50 more than white or black.
About the GE GDF610PGJWW
The standard white option costs the same as black—about $399 on sale. It's about $50 less than stainless or slate.
The GE GDF610 (MSRP $499-$599) is what a dishwasher should be. In addition to getting dishes clean across our battery of lab-based performance tests, it boasts bottle washing jets, a sanitizing cycle, and the ability to wash a single rack at a time. We were especially impressed with how quickly it worked, and what a good job it did at drying.
It's also a good value: In stainless, it sells for as low as $533. Black, white, and slate finishes cost even less.
While some dishwashers perform better and have more useful features, those dishwashers cost twice as much. If you want an affordable dishwasher that adds a few extras and has no problems getting normal loads of dishes clean and dry in a little more than an hour, this GE is worth a look.
Design & Usability
No matter which finish you pick, the exterior of this dishwasher features controls right on the front of the machine. There's a countdown timer and plenty of buttons for every cycle—no hidden touchscreens here.
One cost-cutting measures is immediately apparent when you open the door: There's a plastic tub instead of a stainless one. That contributes to a sound rating of 51 dBA—not whisper quiet like the 41 dBA you'd get from a $1,000-plus machine, but a little softer than the 53 dBA that's standard on similarly priced dishwashers. Either way, if the dishwasher you are replacing is more than 10 years old, you'll notice a pleasant lack of sound from this GE.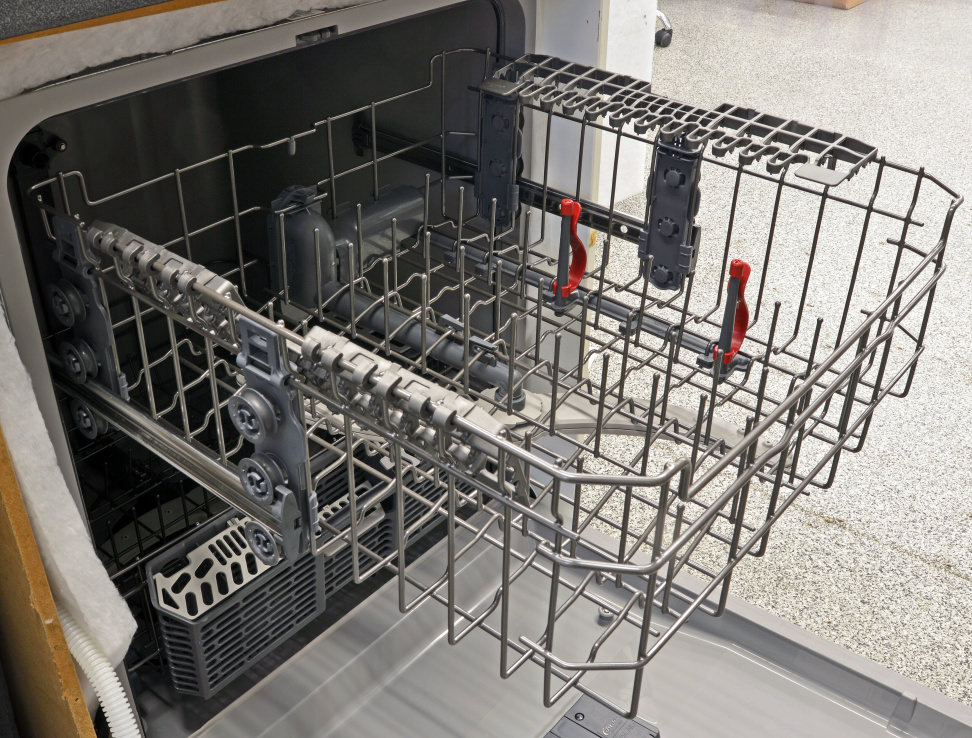 You don't get a ton of flexibility inside: Neither rack offers movable tines, and the two removable cutlery baskets caused us some grief. The smaller one that sits inside the lower rack occasionally slid back and forth. The larger one on the front was more stable, but sometimes fell off if we closed the door when the lower rack wasn't fully pushed in.
GE offers four cycles—AutoSense, Heavy, Normal, and Light—as well as two bottle wash jets on the upper rack. For features, you get:
• Delay in hour increments from 1-12
• A steam prewash option that's designed to help soften tough stains
• 2 wash temp adjustments—Boost and Sanitize
• Heated Dry
• Upper or Lower rack washing for half loads
• A one year warranty on parts and labor
• Made in GE's Appliance Park factory in Louisville, KY
Most of these options—especially the designated wash zones—come as an unexpected bonus, as some dishwashers that cost hundreds more don't even have them. Another nod to old-school cleaning is GE's Piranha hard food disposer, which grinds up washed-off food before sending it into a removable filter.

Decent Cleaning
But special wash options don't amount to much if your dishes aren't clean. Though this GE did a better job washing away food stains than other machines at its price point, both the Normal and Heavy cycles had some problems removing our tough baked-on spinach and burnt cheese stains.
However, it easily removed the stains most homeowners will encounter. More importantly, the Normal cycle only took an hour and 13 minutes, which is about half as long as many modern dishwashers. And at the end of that cycle, dishes were perfectly dry.

The GDF610's Normal cycle is already plenty quick, so instead of a faster cycle it has Light—which is designed for dishes that aren't heavily soiled.
The Normal cycle only took an hour and 13 minutes
As expected, Light left stains behind on all dirty dishes. However, it did manage to perfectly dry every dish we put in there, so if you've got dusty wine glasses and dessert plates but don't have time to wash or dry them by hand before a party, this is the cycle for you.
Our Take
Lots of people who have bought dishwashers in recent years complain that they take too long, and don't get dishes dry. But the GE GDF610 doesn't have any of those problems. If you want an old-school clean with modern features like steam and bottle wash jets, you should check it out.
Comparable Products
Before you buy the GE GDF610PGJWW, take a look at these other dishwashers.
Our editors review and recommend products to help you buy the stuff you need. If you make a purchase by clicking one of our links, we may earn a small share of the revenue. Our picks and opinions are independent from any business incentives.
Related Models Other products in this series