dishwashers
Kenmore 13042 Dishwasher Review
An entry-level machine with some additional perks.
$629.99 MSRP
Not everyone shopping for a dishwasher is in the market for something fancy. While amenities like interior lights and cutlery racks get a lot of attention, some shoppers just want their dishwashers to wash dishes.
The Kenmore 13042 (MSRP $629.99) tries to be that simple dishwasher, but throws in a few extra features to make it stand out. Despite entry-level trappings like a plastic front-mounted control panel, this Kenmore is equipped with high-intensity TurboZone wash jets and an adjustable height mechanism on the upper rack. While a bit pricey at the MSRP, sale prices for the 13042 hover around $459.99, which is much more reasonable.
Design & Usability
Not really one to show off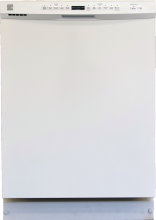 The 13042's appearance is pretty lackluster, in the original sense of the word. Its solid white exterior certainly isn't stainless, and its gray plastic interior is dull. There are red highlights on some of the spray nozzles, but other than that, nothing about this machine's design sparkles, shines, or pops.
That's not to say the 13042 is without its merits. For starters, the front-facing controls are responsive and simple to use, with one button for every cycle and option. The upper rack has two height settings, and adjusting it is as simple as holding a pair of levers—no need to pull the entire rack off its track.
As far as loading goes, the 13042 is, sadly, rather inflexible. The bottom rack has one row of foldable tines, and the top rack has none. We were able to fit ten place settings and a serving setting, but we probably could've fit a little more if it weren't for the space-hogging cutlery basket.
Features
Highway to the TurboZone
Entry-level dishwashers are often equipped with a minimal selection of cycles and wash options. The 13042 gives you a little more than that. Three of the wash cycles—Normal Wash, Pots & Pans, and 1 Hour Wash—cover most average users' needs, but the 13042 also offers Smart Wash and Quick Rinse cycles as well.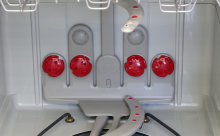 For customization, the 13042 lets you raise the temperature of the wash, add a sanitizing rinse, or activate the high-intensity TurboZone spray jets on the back of the tub to power away tough stains. The Heated Dry lets you dry your dishes using the heating element rather than leaving them to air dry, and is engaged by default on most cycles. Disengaging it cuts about 30 minutes off the wash if you need your dishes done quick and don't care that they may emerge soaked.
A couple of other features round out this Kenmore. 4 Hour Delay lets you run the dishwasher at a later time, and Control Lock stops the buttons from receiving inputs. This is especially useful since the forward-facing control panel is prone to accidental button presses.
Comparable Products
Before you buy the Kenmore 13042, take a look at these other dishwashers.
Performance
Takes its time, but gets results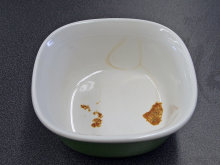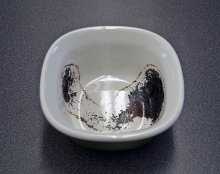 For the most part, the 13042 will take care of your regular dishwashing needs. Its Normal Cycle did a good job on a wide variety of common stains, and it left only a few noticeable instances of redeposit. Most dishwashers, to some degree, have a problem with spreading food particles to other dishes during the wash, but the 13042 keeps it mostly under control.
Things fell apart with the Pots & Pans cycle. Since this is a stronger, heavier cycle than the Normal Wash, we up the ante by adding some extra tough stains. Unfortunately, the 13042 could not handle the burnt cheese and burnt sugar stains we threw at it.
Neither of these two cycles are particularly fast, partially because the Heated Dry option is automatically engaged by default. Normal took over two hours and Pots & Pans took three. Cutting out Heated Dry can shave about 30 minutes off of a cycle if you're in a hurry.
Otherwise, the 13042's 1 Hour Wash cycle should suffice. As advertised, it completed in one hour, and gave results that were similar to the Normal Wash. The redeposit was much more noticeable though, so we recommend using this with only lightly-soiled items.
The 13042's water usage is very low, while its power consumption is about average, adding up to an average of $24.51 a year in utility costs, which is around $5 less than the typical dishwasher.
For in-depth performance information, please visit the Science Page.
Why We Like It
Worth it, but wait for a sale
The Kenmore 13042 is a solid purchase, but only if you find it on sale. If you plan on spending full price, it's a better bet to choose the Whirlpool WDT710PAYH, which sports better performance and a more polished exterior.

That said, if you find one for less than $500, snap this Kenmore right up. The 13042 handles everyday loads without any problem and offers you a handful of options for dealing with tougher stains. It's a good price for covering all your bases.
The only way to go lower is if you want to eschew all the extra options. The extremely cheap Amana ADB1100AWB, which is only $300, would be your best alternative in that case.
Our editors review and recommend products to help you buy the stuff you need. If you make a purchase by clicking one of our links, we may earn a small share of the revenue. Our picks and opinions are independent from any business incentives.