dishwashers
Kenmore 14652 Portable Dishwasher Review
It's a small wonder!
$709.99 MSRP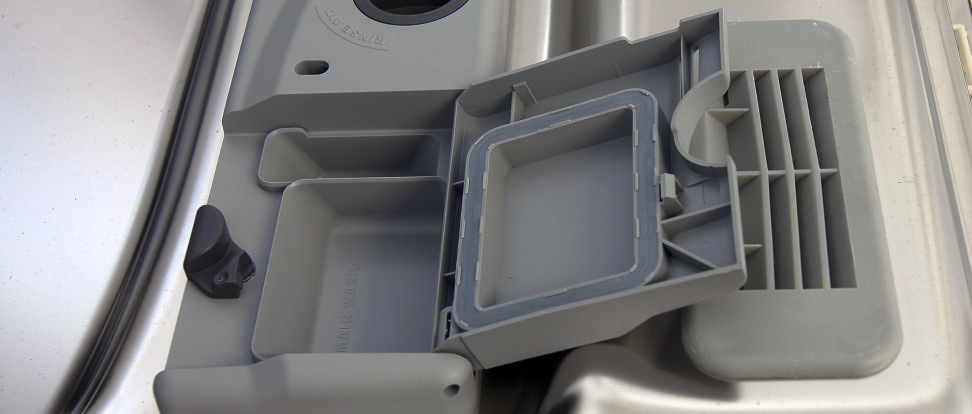 The Kenmore 14652 is better than 37% of the dishwashers we tested.
It is better than 66% of the dishwashers we have tested under $800.
Sometimes installing a standard 24-inch built-in dishwasher is simply not an option. If your kitchen lacks a dishwasher and remodeling is out of the question, a portable dishwasher like the Kenmore 14652 (MSRP $710) is usually the best solution.
Designed to move easily and draw water directly from your kitchen sink, this Kenmore dishwasher won't violate your lease, but it will clean just as well as many full-size machines. It's also a heck of a lot better than hand washing.
You can probably guess what the disadvantages are. Due to its portable nature, the 14652 has a low capacity and a small selection of cycles and customization options. But with sale prices around $525, it still beats slaving over a soap-filled sink.
Design & Usability
Bland looks, like office furniture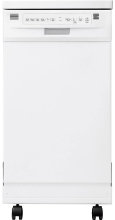 Stretching only 18 inches wide and rolling around on a set of wheels, the 14652 might remind you of the two-drawer mobile file cabinet that sits in your office. You don't want to put any sensitive documents in here, though.
The 14652 easily hooks up to any kitchen faucet with a traditional screw-on aerator, and it will drain waste water directly into your kitchen sink. No additional tools or hoses are required: You literally plug it in, screw it onto the faucet, turn the faucet on, and wash dishes.
The 14652 comes in white and a mechanically identical 14659 has a black exterior, so there's no option for a stylish stainless finish. But that's the beauty of portable dishwashers—you can hide them out of sight if they don't match your kitchen's design.
Inside, however, is where Kenmore put a stainless tub. That helps with drying, thanks to better heat retention than plastic. Stainless steel also helps dampen sound, but thanks to its portable design, we could definitely hear when the 14652 was doing its job.
A drawback to the 14652's portable design is its tiny capacity. We were only able to fit six of our standardized place settings and a serving setting inside the cramped interior. Also, none of the tines can be adjusted, so don't expect to fit any oddly-shaped novelty plates inside there.
Features
You won't get these options if you wash by hand.
The row of buttons on the front of the 14652 tells you its six wash cycles: Pots & Pans, Normal Wash, Light Wash, China Gentle, Eco, and Quick Rinse. Although a fast cleaning cycle is missing (Quick Rinse doesn't count, because it doesn't use detergent), that's still an impressive selection given the price of the machine. Specialty cycles like China Gentle and Eco are normally found in higher-end machines, where high-falutin' users demand finer control over their cycles.

On the flip side, the only customization options the 14652 offers are Hi Temp Wash and Air Dry. A limited Delay Start feature lets you postpone a wash and a Control Lock prevents button-happy kids from interrupting a cycle.
The Eco cycle automatically engages Air Dry and Pots & Pans will automatically engage Hi Temp Wash. Even though there is no designated Sanitize option, the Pots & Pans cycle runs hot enough to fulfill a similar role.
Performance
File this under: Clean
The 14652 may be small, but it packs quite a punch. The interior was completely crammed full of dishes, bowls, and cups loaded with our test stains, and most of them came out clean.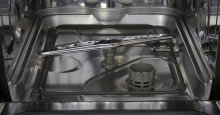 On the Normal Wash, the scores were comparable to other mid-range dishwashers: there were very few remains of the common egg, milk, and meat stains, and only slightly more leftovers from the sticky baked-on oatmeal stain. The Pots & Pans cycle showed barely any improvement with these stains, but did a great job removing burnt cheese and burnt sugar.
When a dishwasher sprays food particles onto other plates instead of draining them away, it's called redeposit. It was barely noticeable in the Normal Wash and practically non-existent on the Pots & Pans. However, with both cycles, we did notice that items loaded in the rear of the upper rack don't get as clean, which indicates poor water coverage in that area.
The smaller size and capacity means this dishwasher doesn't take much water or power to get the job done. We estimated an annual cost of $21.19, which is close to two-thirds of what an average, full-size dishwasher would use in a year.
For in-depth performance information, please visit the Science Page.
Why We Like It
More than good enough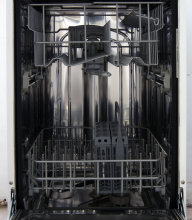 If you're in a small apartment or have a tiny kitchen, your dishwasher options are limited. There aren't that many models of portable dishwashers on the market, and sometimes, you end up buying one that's just "good enough" because it's the only one available.
The 14652 is more than "good enough."
With cleaning power comparable to mid-range built-in dishwashers and very low water consumption, the 14652 is certainly worthwhile if you find it on sale. Even when your options are limited, you shouldn't feel bad about choosing the 14652.
Our editors review and recommend products to help you buy the stuff you need. If you make a purchase by clicking one of our links, we may earn a small share of the revenue. Our picks and opinions are independent from any business incentives.