dishwashers
Kenmore Elite 12833 Review
Feel free to rub elbows with this Elite
$1,759.99 MSRP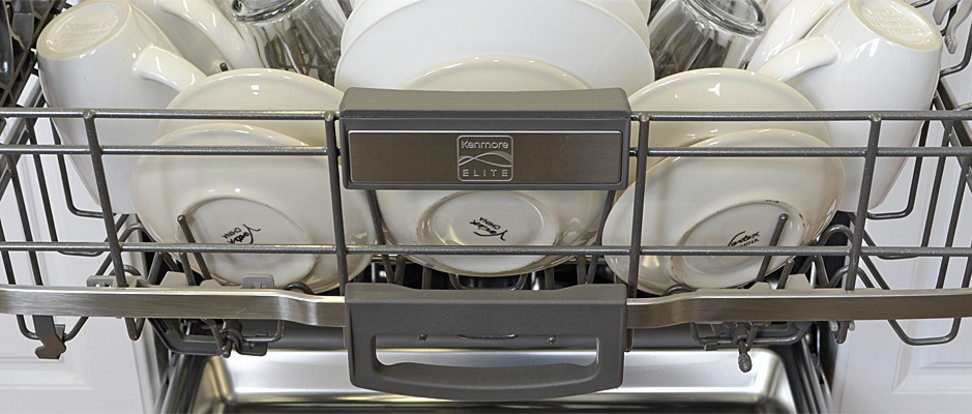 It's easy to get pumped about the Kenmore Elite 12833 (MSRP $1759). How could you not, when it has exciting features like 360° PowerWash Plus and TurboZone? Even with that monstrous price tag, this dishwasher's sleek exterior, adjustable interior, and raw cleaning power make it an attractive choice. In fact, choice is this machine's greatest strength—everything from how you load it to how you run it can be tailored to your liking. Just make sure you wait for a sale.
Design & Usability
SO MUCH ADJUSTABILITY
The Kenmore Elite 12833 is a beautiful machine, inside and out. The front is stainless steel, including the panel on top that serves as a handle for the door. Embedded in the center of that panel is an indicator light that turns bright blue when the machine is running, red during a drying cycle, and green when the cycle is complete. The Start and Cancel buttons rest on the far right, and since they match the stainless steel color of the rest of the door, they don't take away from the machine's professional look. Finally, resting on the top of the door, and hidden under the countertop when the door is closed, is a row of touch-sensitive buttons for cycle and option selection.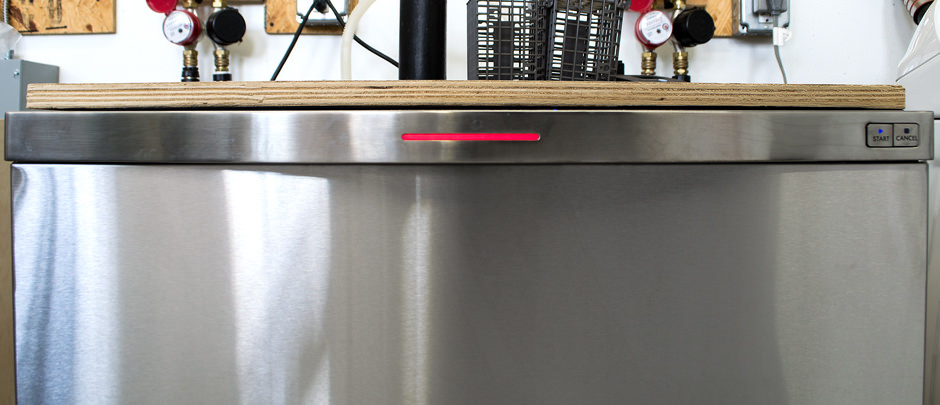 Something very cool happens when you open the Kenmore Elite 12833's door. It feels heavier than other dishwasher doors, but that's because it uses a torsion hinge. Clever engineering allows the door to stay put at any angle, meaning it won't shut on its own or slam to the floor when you open it.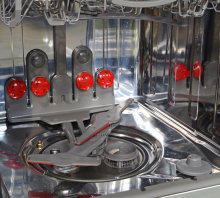 The inside of the Kenmore Elite 12833 is also stainless steel, and it's just as pretty and practical as the outside. Perhaps by design, all the best features in the tub has a red trim to draw your attention. This includes the motorized spray arm, which Kenmore calls the 360° PowerWash Plus, and the four high-intensity spray jets in the back, which are used when you enable the TurboZone wash option. The top rack is adjusted by a handlebar, and can be raised or lowered like a jack. This means you can use it with only one hand, which is pretty convenient.
Other perks inside the Kenmore Elite 12833 include foldable tines on the top and bottom racks, a fold-out cup shelf, and a pair of stemware clips. In addition to a cutlery holder that can be split into three baskets, there's a separate knife basket designed for holding steak knives. There are plenty of ways to make use of the space, and we were able to fit ten place settings and a serving setting inside this machine.
Features
SO MUCH CONTROL
All of the Kenmore Elite 12833's cycles and options can be selected by touch-sensitive buttons located on top of the door. There are six cycles to choose from: SmartWash, Pots & Pans, Normal Wash, 1 Hour Wash, China Gentle, and Quick Rinse. That's enough to cover everything from a quick spritz for light soils to a deep clean for greasy cookware.

But for those who want even more control, there is a wide selection of options for customizing a wash cycle. As mentioned before, the TurboZone option activates the high intensity spray jets, while High Temp and Sani Rinse raise the water temperature for a better clean. Smart Dry will add a drying cycle to the end of a wash, and is chosen by default on most cycles. Top Rack Only and four or eight cycle delay top off the list. There's even an option to disable the machine's sounds if you don't want to hear a beep every time you press a button.
Comparable Products
Before you buy the Kenmore Elite 12833, take a look at these other dishwashers.
Performance
SO MUCH POWER
The Kenmore Elite 12833 looks great and offers a ton of options, so we were really hoping its performance scores would match the heavy price tag. With the Normal cycle, we found very few instances of redeposit, which is when dirt is washed off of one plate and sprayed onto another. We were also pleased that it used less than three gallons of water. However, with a cycle time of two hours and 16 minutes, and scores that were only slightly better than other, less pricy dishwashers, the Normal cycle certainly didn't feel "elite."
Nearly every dish came out spotless.
And then we ran the Pots & Pans cycle. We use excessive amounts of soil on our tests, with the expectation that no dishwasher would be able to perfectly wash everything off. The Kenmore Elite 12833's Pots & Pans cycle came extremely close, and nearly every dish came out spotless. Perfection takes time, though: about three and a half hours, in this case. If you need to use this powerhouse of a cycle, you should probably do it overnight or go watch a movie.
The 1 Hour wash clocked in at 68 minutes, only slightly longer than advertised, but it delivered a better cleaning score than the Normal cycle in every stain category except for milk. Both the 1 Hour and Pots & Pans cycles use more than twice as much water as the Normal, which could explain their stronger performances. Still, we estimate an annual cost of $29.41, which is below average.
For in-depth performance information, please visit the Science Page.
Conclusion
SO WORTH IT?
If you're in the market for a high-end dishwasher, you really can't go wrong with the Kenmore Elite 12833. On top of professional looks and plenty of adjustable parts to play with, it actually does a great job cleaning your dishes. This dishwasher is versatile, too: it has a very efficient Normal cycle that's perfect for everyday use without hitting your utility bill too hard, but when the situation calls for it, the Pots & Pans cycle can wipe out even the toughest stains.
While it did not score as well as the less expensive KUDE48FXSS or the Bosch SHE8PT55UC, we cannot conclusively say that the Kenmore Elite 12833 is strictly worse. Each of these machines offer something different, like a third rack or interior lights. That said, when it comes to high-end dishwashers, the Kenmore Elite 12833 is definitely worthy of consideration. Just be sure to keep an eye on sale prices.
Our editors review and recommend products to help you buy the stuff you need. If you make a purchase by clicking one of our links, we may earn a small share of the revenue. Our picks and opinions are independent from any business incentives.