dishwashers
Kenmore Elite 14683 Compact Dishwasher Review
Even a compact can be Elite
$979.99 MSRP
Sometimes, good things really do come in small packages. If you're stuck with a small kitchen that has no room to fit a full-size dishwasher, the Kenmore Elite 14683 (MSRP $979.99) might be your answer. Measuring 18 inches across, this Kenmore is equipped with many of the same cycles and wash options you'd see on its 24-inch cousins. Its cleaning performance is on about the same level, with the only drawback obviously being a lower load capacity.
Most people would be rightfully hesitant to spend almost $1,000 on an "inferior" Elite, but we've found sale prices as low as $725. And for people who simply can't fit a full-size dishwasher, this is a better alternative than slaving away over the sink every night.
Design & Usability
A trim profile…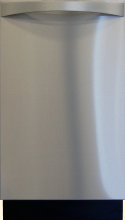 With a smooth, protruding handlebar and a blank, stainless steel front, the 14683 doesn't look much different from other dishwashers on the market, save for the obvious size difference. Borrowing an idea from other machines that lack a forward display, the 14683 beams a blue light on the floor to let you know when a cycle is done. Its control panel is hidden on top of the door and features responsive mechanical buttons.
Even though there isn't as much room inside the 14683 as in a full-size machine, you will still find all of the same familiar trappings: There's a detachable filter at the bottom of the tub and a fold-down cup shelf on the upper rack. The bottom is plastic, but the rest of the walls inside the 14683 are stainless steel.
We could fit six of our standardized place settings and a serving setting, as opposed to the 10 or 11 in a full-sized machine. The bottom rack has a good number of plate supports, and two of the rows can be folded down if you need to make room. There's also a pair of cutlery baskets.
Features
...with full-size features
The machine's limited capacity doesn't translate to limited options. There are a total of five cycles and four wash options on the 14683. And with one-button selection for each of those, that control panel looks mighty cramped.

For cycles, you have Fast Wash, Pots & Pans, Normal Wash, Eco, and Quick Rinse. Eco is this Kenmore's version of a Light or Delicate wash, which uses less water and lower temperatures. The wash options are Hi Temp, Sani Rinse, Air Dry, and Delay Start, which can be set for 2, 4, or 6 hours.
Comparable Products
Before you buy the Kenmore Elite 14683, take a look at these other dishwashers.
Performance
A powerful clean from a small machine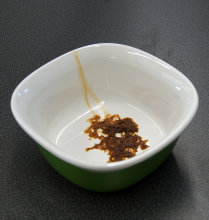 What few dishes you can fit inside the 14683 will come out clean. Even with the limited space and with all the items huddled so closely together, this dishwasher's Normal cycle removed most of our test stains. One thing we did notice was that items we loaded at the back of the upper rack tended not to come out as clean, indicating poor water coverage in that area.
On this Kenmore Elite, the heavy duty cycle is called Pots & Pans. This cycle performed very well on the common, everyday stains such as milk and meat, but did not do so hot with burnt cheese and sugar, which are usually the result of baking and cooking. If you want to use this cycle after cooking a large meal, you should soak your pots and pans or scrape some of the more stubborn stains off beforehand.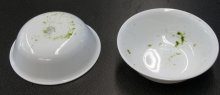 When food soils get sprayed to other items during the wash, the official term for that is redeposit. Although that was barely an issue with the Normal Wash and the Pots & Pans cycle, the Fast Wash demonstrated a textbook case to us. This cycle took a little over an hour, but our baked-on spinach stains were sprayed everywhere. Don't use this for anything but light stains.
A smaller dishwasher logically translates to lower power and water consumption. The 14683 has an estimated annual running cost of $23.03 a year, which is about $5-6 lower than most full-size machines we've tested.
For in-depth performance information, please visit the Science Page.
Why We Like It
My Little Elite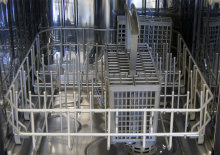 The 14683 is just a smaller, compact version of other full-size, mid-range dishwashers. You'll find the same stainless steel front, strong cleaning power, and healthy selection of cycle and wash options. In fact, this combination of features is so run-of-the-mill that this Elite wouldn't stand out if it weren't for the fact that it's only 18 inches across.
That size matters a lot, though. Some kitchens simply don't have the space for a full-size dishwasher, and the alternatives are either undertaking a costly kitchen remodel or moving. Having all of the perks of a full-size built-in (except for capacity) means the 14683 is the answer some buyers are looking for.
If you want to save some money and don't even have a cabinet cutout for a dishwasher, the Kenmore 14652 is a good alternative to the 14683. This wheeled dishwasher has the advantage of portability, but lacks the diverse cycle selection.
Compact dishwashers are a niche market, and buyers are more often forced to settle on what's available rather than what's actually good. Both of these Kenmores are great choices, and are certainly better than washing dishes by hand.
Our editors review and recommend products to help you buy the stuff you need. If you make a purchase by clicking one of our links, we may earn a small share of the revenue. Our picks and opinions are independent from any business incentives.