dishwashers
Kenmore Elite 14823 Dishwasher Review
Want to watch your dishwasher do its thing? Now you (almost) can.
$1,399.99 at Sears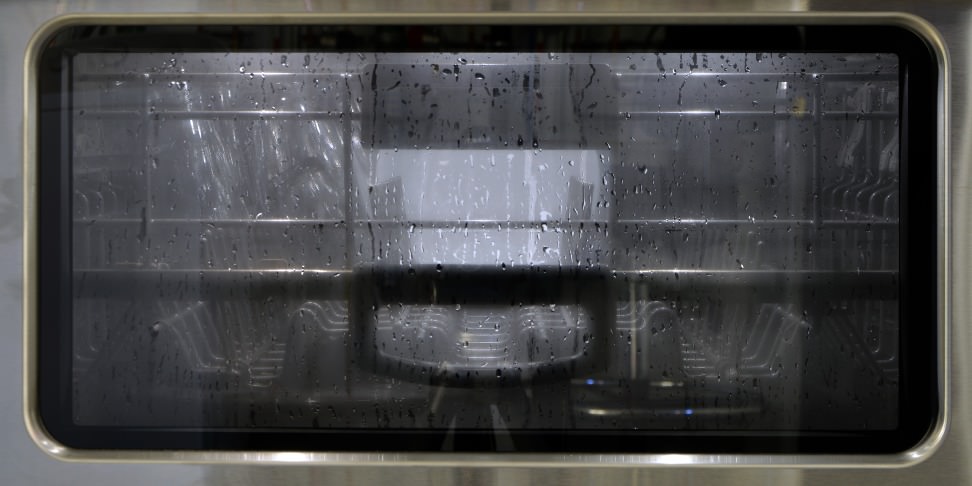 Credit: Reviewed.com / Johnny Yu
The Kenmore Elite 14823 is better than 87% of the dishwashers we tested.
It is better than 86% of the dishwashers we have tested under $1,500.
It is better than 86% of the install dishwashers we have tested.
Like many Elites before it, the high-end Kenmore Elite 14823 (MSRP $1,999) is a dishwasher that's loaded with premium features, including an advanced filtration system, a clever wash arm, and tons of water jets mounted all over the tub. It also cleans dishes extremely well, which should be a given on any dishwasher in its price range.
But it's also got something no other Elite does: a window.
If you've watched any of our dishwasher interior videos, you might understand the odd satisfaction of peeking inside a tub while it's running. That said, even with sale prices around $1,399, this Elite charges a lot for those front-row seats.
This video shows the inside of the Kenmore Elite 14763, which has the same wash system as the 14823.
Look And Feel
At the very least, it will match your oven
Kenmore's latest offering comes after KitchenAid announced its window dishwashers last January. In fact, all window dishwashers are based on the same platform (Whirlpool, which owns KitchenAid, makes most Kenmore dishwashers).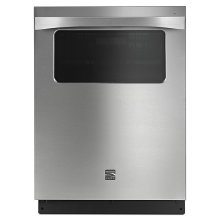 Read the comments on our article and you'll see that some consumers immediately understood the appeal. But most folks are left to wonder: Why in the world would you want a window on your dishwasher? Understandably, this design choice isn't for everyone. However if you have a stainless steel oven with a window, this dishwasher's aesthetics will match up more completely. Plus, if the views our "Inside a Dishwasher" videos get are any indication, people are genuinely curious about what goes on in there.
It's very difficult to actually watch the exciting dishwashing action mid-cycle
If you still don't get the appeal, you'd be better served by the Kenmore Elite 14833 instead. They're exactly the same machine, except the 14833 is windowless.
The 14823 has interior lights, but we're frustrated by how they work. They only turn on when the door is open or when a cycle is finished, and the window itself has more tint than a cop's sunglasses. That means it's very difficult to actually watch the exciting dishwashing action mid-cycle. This feature would be so much better if it had a manual toggle. You know, like with an oven.
Aside from the window, this model borrows the best interior features we've found on other Elites and simply includes them all. There's a three-part cutlery basket, side wall jets, the MicroClean filtration system, a clever one-handed height adjustment mechanism, and a slew of parts that can be folded, collapsed, raised, or lowered as needed. With a whisper-quiet sound rating of 39 dBA, the 14823 is a solid high-end dishwasher—even without the window.
Does It Clean?
Exceptional filtration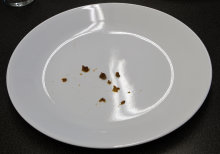 The 14823 successfully prevents washed-off food from redepositing back onto the dishes, which is a problem for many dishwashers, regardless of price. The MicroClean filter on this Elite does its job well, trapping wayward food particles, and we couldn't find redeposit anywhere.
Unfortunately, some of our meat stains stuck around after a run with the Normal Wash cycle, and some of the milk-stained glasses still had visible traces of food left behind. But our test stains are heavier than what you'll experience in the real world, so don't expect this much trouble at home.
The Pots & Pans cycle left nearly nothing behind, so it makes a good catch-all for giant messes. This Elite's water usage is above-average, so you're looking at slightly higher utility costs (about $33.03 per year, total), but we dare say the clean dishes are worth it.
For in-depth performance information, please visit the Test Results Page.
Comparable Products
Before you buy the Kenmore Elite 14823, take a look at these other dishwashers.
Need the Manual?
If you need warranty information or installation instructions, please refer to the Kenmore Elite 14823 User Manual. Like most dishwashers, this one comes with a one-year limited warranty.
Should You Buy It?
It really comes down to how much you like that window.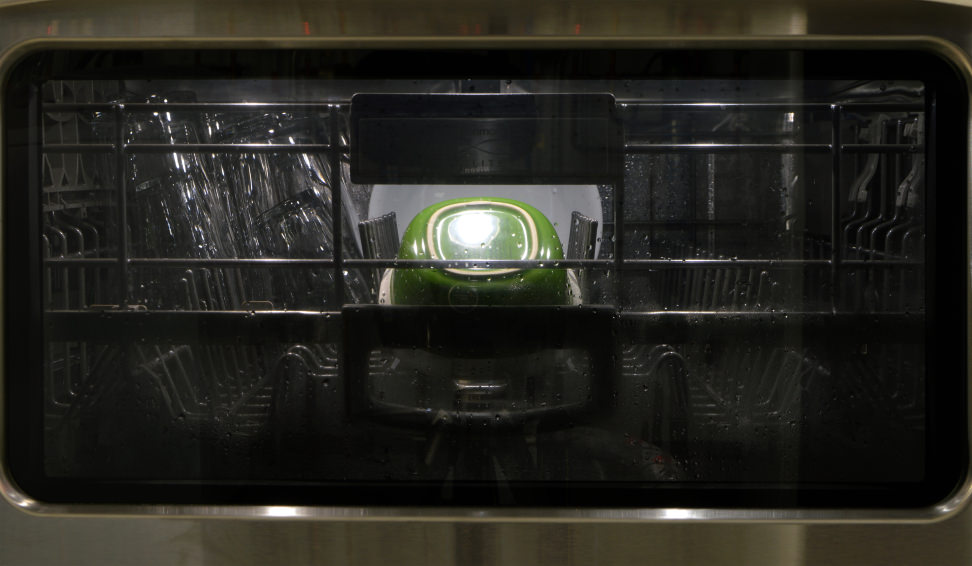 Without the window, the 14823 is a superb dishwasher with a ton of high-end features. At sale prices, it's comparable to other fully loaded, premium dishwashers, like the GE Profile PDT750SSFSS. It's obviously a little pricier but, well, there's a window.
So whether the 14823 is the right dishwasher for you comes down to that window. Otherwise, you may want to shop around. You don't even have to look very far: The Kenmore Elite 14763 is almost the same dishwasher, with a lower upfront cost.
Our editors review and recommend products to help you buy the stuff you need. If you make a purchase by clicking one of our links, we may earn a small share of the revenue. Our picks and opinions are independent from any business incentives.