dishwashers
KitchenAid Architect Series II KDTM354DSS Dishwasher Review
Smooth as silk
$797.40 at Home Depot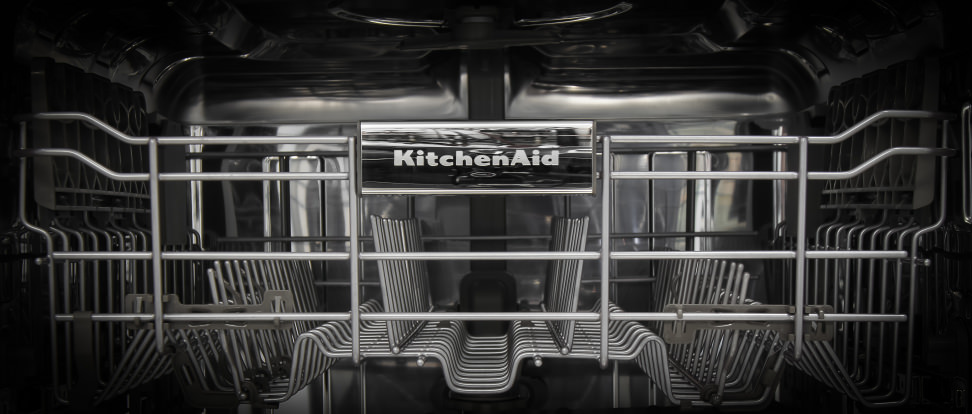 The KitchenAid KDTM354DSS is better than 94% of the dishwashers we tested.
It is better than 93% of the dishwashers we have tested under $1,500.
It is better than 94% of the install dishwashers we have tested.
If cleaning dishes were against the law, the KitchenAid Architect Series II KDTM354DSS (MSRP $1,199) would be one smooth criminal.
From its design to its performance in our lab tests, this all-new dishwasher is all about fluidity and grace. It's equipped with KitchenAid's new ProFilter technology, which continually removes food particles from the wash water. That means the KDTM354DSS doesn't have the nasty habit of spraying dirty water onto clean dishes—a problem that many of its competitors face.
This video was recorded inside the KDTE304DSS, which is a previous KitchenAid dishwasher from the Architect Series II line.
Design & Usability
Like satin, inside and out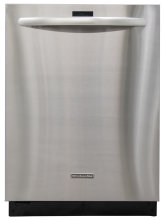 As part of the Architect Series II line of KitchenAid appliances, the KDTM354DSS got a recent redesign. It's marked by smooth, rounded edges and a seamless appearance. The protruding handlebar gently curves outward, and a simple, forward-facing LCD screen is embedded flush with the stainless steel door.
The controls are concealed on top of the door. In keeping with the smooth look, the control panel uses flush, touch-sensitive buttons. Although lacking the tactile feedback of mechanical buttons, we found the KDTM354DSS's controls responsive.
Inside, things get interesting. The drain and filter at the bottom of the KDTM354DSS's tub look nothing like the detachable screen filters or the hard food grinders found in other dishwashers. There's only a small detachable piece that traps larger food particles, which you'll occasionally have to remove and clear if it gets too clogged. More on that later...
We were able to fit 11 place settings and a serving setting inside the KDTM354DSS. The upper rack is on ball bearings, so it glides out smoothly. Its height can also be adjusted by pressing and holding a pair of levers. ProScrub high-intensity jets sit at the rear of the tub, and a plethora of adjustable tines lets you load bowls both shallow and deep.
Features
ProWash, ProScrub, ProDry…
For cycles, the KDTM354DSS features the usual suspects: ProWash, Tough, Normal, Light, Express Wash, and Rinse Only. Just pick the cycle that corresponds to how much dirt is on your dishes, or use ProWash if you have a mixed load.

There are a handful of available options to customize your wash further. ProDry is a default on many of the cycles, and it's used for adding a heated drying period to the end of a wash. You can disengage this to save time and power. ProScrub activates the high-intensity spray jets located at the back of the tub for powering through tough stains. The rest of the options—Hi-Temp Wash, Sani Rinse, and Top Rack Only—are pretty self-explanatory.

You can also delay the start of a cycle for 2, 4, or 8 hours, shut off the dishwasher's beeps and chimes, and lock out the control panel.
Comparable Products
Before you buy the KitchenAid KDTM354DSS, take a look at these other dishwashers.
Performance
…And the newcomer: ProFilter.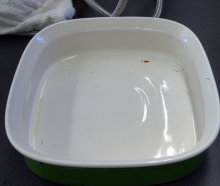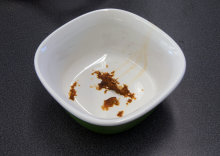 You may not know this, but a dishwasher works by repeatedly spraying water onto dishes, recycling and filtering that same supply of water multiple times before draining it and performing a final rinse with clean water. As the water gets cleaner, so do your dishes.
If a dishwasher's filtration system isn't well-designed, food particles can be washed onto otherwise clean dishes. We call this phenomenon redeposit, and we've spotted it on dishwashers at all levels and price ranges.
KDTM354DSS's ProFilter seems to have eliminated the problem entirely. We could not find instances of redeposit on any of the cycles we tested. The Normal cycle left a few meat, milk, and spinach stains behind, but the stuff that did get washed off didn't end up somewhere else. Even the Express cycle, which clocked in at a little under an hour, had no trouble with redeposit.
With an overall excellent performance, the KDTM354DSS only had a few faults: The Tough cycle had some trouble with burnt cheese, and some of the items on the back of the upper rack weren't as clean as others, indicating poor water coverage.
In terms of water and power usage, the KDTM354DSS is very slightly above average. If you occasionally run some of the heavier-duty cycles you'll be looking at spending about $29.33 a year to run this dishwasher.
For in-depth performance information, please visit the Science Page.
Why We Like It
New tech that really works
When a manufacturer boasts about new, innovative technology that will drastically enhance an appliance's performance, it's up to us to see if the product lives up to the hype. The ProFilter wash system seems to do exactly as advertised, and we wouldn't be surprised to see it in other KitchenAid dishwashers soon.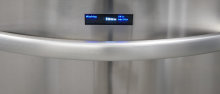 Should you buy a KDTM354DSS of your own? We think so. This is one of the best-performing dishwashers in its price range. We found it on sale for around $1,075, and sale prices may drop lower. If you're a KitchenAid loyalist, it's especially attractive.
If more features and a minimalist look are important to you, the Electrolux EI24ID50QS offers even more value. Not only is the Electrolux cheaper, but it comes with bottle washer jets, stemware clips, and a dizzying nine cycles to choose from.
Still, we've got to hand it to KitchenAid for some true innovation, and we look forward to testing more products that feature ProFilter.
Our editors review and recommend products to help you buy the stuff you need. If you make a purchase by clicking one of our links, we may earn a small share of the revenue. Our picks and opinions are independent from any business incentives.