dishwashers
KitchenAid KDTE554CSS Review
AquaSense cleans dishes with just 1.6 gallons of water
$1,749.00 MSRP

We've seen some amazing innovations in dishwashers over the past year, from Frigidaire's OrbitClean spray arm to GE's Bottle Wash jets.
Now, it's KitchenAid's turn. The KDTE554CSS (MSRP $1,749) debuts an all-new feature called AquaSense, a water recycling system that can cut your dishwasher's water use in half while still getting dishes clean. The dishwasher is currently available in a handful of stores, but it will debut across the country soon.
Our tests found that the KDTE554CSS's cycles were indeed both conservative and effective. However, when compared to other high-end dishwashers, this machine fell behind the top of the pack when it came to cleaning power and cycle times. And we weren't convinced this dishwasher is the best bang for your buck—electricity use remains high, and sale prices rarely drop below $1,500. But if you're concerned about water conservation, there's no better dishwasher on the market.
Design & Usability
Hidden Savings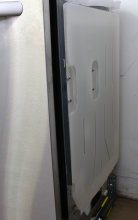 The pride and joy of the KDTE554CSS is its AquaSense water recycling system. Already common in resource-conscious Europe, it recaptures water from the final rinse of the previous cycle, filters it clean, and stores it in a slim-profile 3.3-liter tank on the side of the machine. That water is on tap to pre-rinse the next cycle, and fresh water is then used to finish the wash.
The end result is lower water usage, and our tests proved it. If you don't use your washer for three weeks, the recycled water flushes from the tank. And the tank itself is thin enough that the washer will fit in a traditional cutout.
But you wouldn't know how efficient this dishwasher is just from looking at it. With a stainless steel front and protruding handlebar, the KDTE554CSS can fit in a high-end kitchen. There's also a small LCD screen above the handlebar, which displays the remaining cycle time in the form of depleting bars—similar to your cellphone's signal indicator. It's exactly the same as the LCD screen found on another KitchenAid dishwasher: The KDFE454CSS.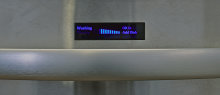 The touch-sensitive control panel is hidden away on the top of the door. The smooth buttons are delightfully responsive, but they are also prone to picking up smudges and fingerprints. Brilliant blue indicator lights match the color of the front-facing screen, and they give the machine an overall streamlined, professional appearance.
Inside, the silverware basket has slots for keeping your knives and forks from touching each other during the wash. These can be removed if you need to room for a larger serving/cooking utensil—such as a spatula. However, unlike with the KDFE454CSS's collapsible slots, the guides must be slid out and removed entirely, leaving you with less flexibility and a fair amount of wasted space.
A couple of rows of adjustable tines on the bottom and top racks do help in the flexibility department, so not all is lost. In total, we were able to fit ten place settings and a serving setting inside the KDTE554CSS.
Features
More than just AquaSense
This KitchenAid has a wide range of cycles and customization options. You can choose between Light/China, Normal Wash, and Heavy Duty cycles depending on how dirty your dishes are, or pick ProWash and let the dishwasher's soil sensors sort that out. A 1 Hour Wash is also available for when you need things done fast.

The KDTE554CSS has ProScrub, which is a set of high-intensity spray jets located in the back of the tub. You can further customize your wash by increasing the wash and rinse temperatures or using Heat Dry to activate the dishwasher's heating element during the drying portion of the cycle.
Comparable Products
Before you buy the KitchenAid KDTE554CSS, take a look at these other dishwashers.
Performance
Standout water savings
Thanks to AquaSense, the Normal cycle only used 1.64 gallons of hot water. That's less than half what some other machines use on the same cycle, and it cleaned better than the majority of dishwashers we've tested.
But there were some drawbacks: The Normal cycle didn't remove all stains, and it had an issue with redeposit—when food particles wash off one item and onto another. The entire ordeal took an unacceptable three hours to complete.
The Heavy Duty cycle took 3.5 hours, but that's much more reasonable for a cycle that's supposed to handle the toughest, greasiest stains your kitchen can cook up. Many of the redeposit problems in the Normal wash were absent, and this cycle generally gave a good showing.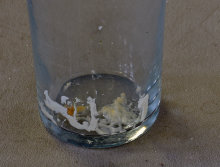 The 1 Hour Wash clocked in at 62 minutes, delivering on its promise. Its results were close to the Normal cycle's, and there were actually fewer instances of spinach getting spread around. Unfortunately, thicker stains like egg and dairy were a huge problem for this cycle, so this is not a suitable alternative for the Normal wash.
With AquaSense, we expected to see a very low annual cost for the KDTE554CSS. But our tests calculated that using a combination of washes would set you back just over $29 a year, which is only about $2 below average. Although the KDTE554CSS's cycles do in fact use less water than cycles on other dishwashers, the Normal and Heavy Duty used a ton of electricity. And that canceled out some of the savings.
For in-depth performance information, please visit the Science Page.
Before You Buy
Really promising technology.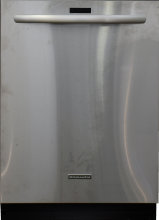 While we're all for saving water and embracing new technology, the KDTE554CSS is pretty expensive relative to its cleaning power. It's also slow. Don't get us wrong: The KDTE554CSS still does a good job washing your dishes, and it uses precious little water—but when you're spending $1,749, you might want more than just good.
As it is, the KDTE554CSS simply can't justify its price tag on cleaning performance alone. For $200 less, you can get the Bosch SHE8PT55UC, which is faster, more efficient, and better at cleaning. For $400 less, the GE PDT750SSFSS is also amazing. Within the KitchenAid family, nearly every dishwasher is a good choice. Our top picks would be the KUDS30FXSS and the KUDE48FXSS.
But the KDTE554CSS isn't only about cleaning performance. It's a showcase for a new technology that could truly save a great deal of water. If KitchenAid manages to sell just 10,000 of these AquaSense-equipped machines, they could save over 80,000 gallons of water each week. Here's hoping that Aqua Sense goes mainstream, becoming more affordable and more common.
Our editors review and recommend products to help you buy the stuff you need. If you make a purchase by clicking one of our links, we may earn a small share of the revenue. Our picks and opinions are independent from any business incentives.