dishwashers
KitchenAid KUDS30FXSS
This KitchenAid excels at the most important function: wash performance.
$1,049.00 MSRP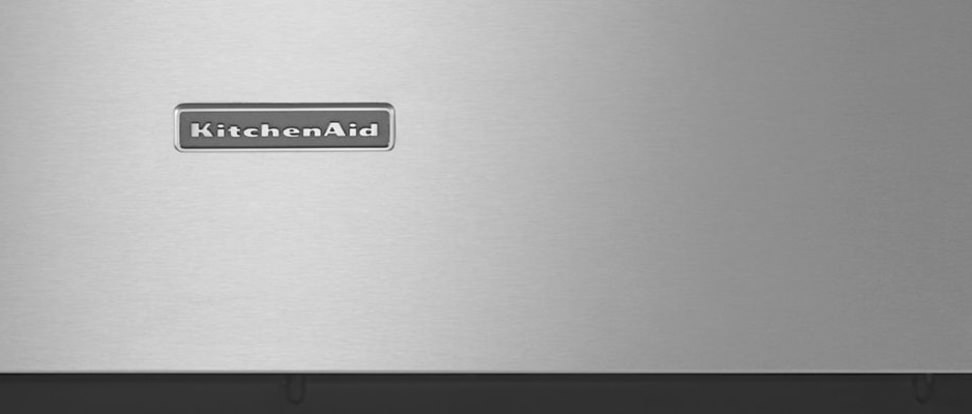 Introduction
The basic idea of a dishwasher hasn't changed in years, and it's simple enough to explain to an orangutan, but every once in a while a product comes along that's just stunning.
What makes the KitchenAid KUDS30FXSS so amazing is not that it's super efficient (like the Bosch SHX98M09UC), well designed (Asko D5434XLS), or innovative (Miele Futura Crystal); it's that it excels at the most important function of a dishwasher: washing dishes. In fact, the KUDS30FXSS just about trounces every other machine we've tested when it comes to cleaning power. What's more, it's far less expensive than all the above mentioned dishwashers, with an MSRP of $1049 and sale prices around $900. These two factors—price and performance—make the KitchenAid KUDS30FXSS the best dishwasher of 2012.
Design & Usability
In its pleasant simplicity, this appliance is more "to the point" than a lot of other top-performing dishwashers.
Anyone familiar with dishwashers made by Whirlpool (which manufactures Maytag and KitchenAid, as well as a few Kenmore and IKEA models) will recognize some familiar elements here. The control panel seems a bit cluttered, but that's mainly because of its range of options. While there seems to be a lot of text, the interface is fairly intuitive: all the options are neatly separated from the cycles. The blue indicator lights are also helpful, as is the status display.
Open the door and you'll see the wash tub is stainless steel, which reduces noise and helps in the drying process. There's also a set of jets at the back of the tub; these are part of the KUDS30FXSS's "PowerScrub" option, and a key reason for the machine's superior performance.
There's also a set of jets at the back of the tub, a key reason for the machine's superior performance.
The top rack is sturdily constructed and flexible enough for most small-sized dishes. The tines are also adjustable and intuitively placed. These tines are fixed, yet the bottom rack is designed in such a way that loading dishes should not be any sort of challenge. The cutlery basket is very spacious, if a little flimsy in its construction. One convenient feature: owners can remove the basket entirely (to make extra room) and still use the smaller basket attached to the right side of the lower rack to load a small number of utensils. The filter, which cannot be removed for easy cleaning, includes an electric disposal that grinds up small food soils. This helps limit backup and ensures a thoroughly clean wash.
Features
If the stellar performance weren't enough, this model also includes a range of wash features and customization options.
In addition to the three main cycles (1 Hour, Normal, and Heavy Duty), there is also a Light/China cycle intended for delicate dishes and glassware. While the Heavy Duty cycle was the most impressive, it actually used less power and took less time to complete than the Normal setting.
There are a few extra wash options included, the most head-turning of which is the "PowerScrub" option, which engages a series of additional spray jets to ensure a more robust wash. While this accounts for some of the KUDS30FXSS's superior performance, the high volume of water used in each of the main cycles also deserves some credit. In addition to that, there is a high-temperature scrub, sanitize rinse, heated dry cycle, and a 4-hour delay. There's also a child lock and—so you can keep tabs on it all—a status display.
Comparable Products
Before you buy the KitchenAid KUDS30FXSS, take a look at these other dishwashers.
Performance
This thing washes dishes like Mike Tyson punches dudes: completely.
There was nothing unique about this KitchenAid when it rolled off the Big Box Store's delivery truck. To be honest, we were expecting another run-of-the-mill, mid- to high-end dishwasher. After we put it through a second round of tests to make sure the phenomenal results weren't some sort of fluke (accidental dishwasher steroid injection?), we accepted the truth. No error; it's just a darn good dishwasher, la crème de la crème. It scored near-perfect on a range of stain tests in both the Normal and Heavy Duty cycles, and the 1 Hour Wash was one of the best performing quick cycles we've ever seen.
This is just a darn good dishwasher, la crème de la crème.
The KUDS30FXSS makes use of a unique spray system to clean dishes—not to mention an absurd amount of hot water and an electric food disposer in lieu of the filters found on other models, such as the KitchenAid KUDE60FX. We concluded that these three factors contributed mostly to the suspiciously strong performance, but the machine still seems to have this mysterious quality, as if some kind of dishwasher gnome were living inside it with a little scrubbing brush... and yes, dishwasher gnomes are a thing now.
Conclusion
The KitchenAid KUDS30FXSS has an excellent cost to performance ratio.
To date, the KitchenAid KUDS30FXSS is the best dishwasher we've tested. It came as a bit of a shock, because it's such a run-of-the-mill machine, otherwise. It's not flashy or uniquely innovative, it's not highly-efficient, and it doesn't include a library of extra perks. But when it comes to cleaning power, this thing is the proverbial top dog.
When it comes to cleaning power, this thing is the proverbial top dog.
The price tag is fairly low, as well, which is why it also won our award for Best Mid-Range Dishwasher. The MSRP is $1049, but sale prices drop this bad boy down to a very reasonable $899.
Our editors review and recommend products to help you buy the stuff you need. If you make a purchase by clicking one of our links, we may earn a small share of the revenue. Our picks and opinions are independent from any business incentives.