dishwashers
Maytag MDC4809PAB
It may not aid human evolution but it does a decent job of cleaning dishes.
$749.00 MSRP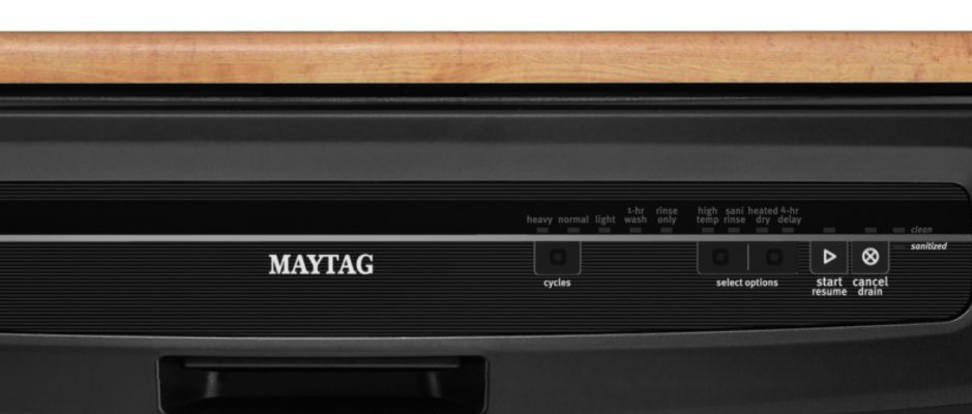 Introduction
The portable Maytag MDC4809PAB is an edifice of a machine that looks a bit like the monolith from 2001: A Space Odyssey. While it doesn't exactly progress human evolution, it does a decent job of cleaning dishes, even though we think its price premium over a built-in isn't justified. Then again, an MSRP of $729 and a $630 sale price is certainly cheaper than remodeling a kitchen or moving apartments.
Design & Usability
Like any good portable dishwasher, this model is functional and intuitive; don't expect it to win any beauty contests, though.
Since the term "portable" can be indicative of a fair amount of movement, the MDC4809PAB is surprisingly sturdy. While the black exterior is highly reflective, the unassuming design should make this model a decent fit for a wide range of kitchens—so long as you don't mind the shiny, fake butcher block top. There are also detachable wheel casters for easy maneuverability. The best part is that all three of the main connection devices (drain hose, power cord, water intake) are already hooked up and merely need to be attached to a sink and power supply. As far as the control panel, we have to wonder: Why use multiple buttons to scroll through a mere four options?
The MDC4809PAB is surprisingly sturdy.
The plastic white interior contrasts with the black exterior. While the plastic feels somewhat cheap, it doesn't seem to impinge on the machine's overall cleaning power, though it doesn't mask any of the sound this already noisy machine makes. The lower rack slides easily enough, and the vinyl coating ensured dishes stayed firmly in place. The upper rack is not adjustable, but it is well laid out and created a considerable amount of space. Our one (minor) complaint was that the two rows of tines were angled in such a way as to limit space along the perimeter of the rack.
Features
Consumers looking for a little versatility from their dishwasher won't be disappointed, but it doesn't go above and beyond to impress.
The three main cycles—Light, Normal, and Heavy—in addition to the 1-Hour Wash (the quick cycle) should satisfy most washing needs. Three features can be added to individual cycles: a high-temperature rinse, a sanitize wash, and a heated dry option. We tested the sanitize feature and found it was able to reach a sufficiently high wash temperature of 156ºF. In addition, there's a four-hour delay feature, as well as a display that indicates when a cycle is cleaned and/or sanitized.
Comparable Products
Before you buy the Maytag MDC4809PAB, take a look at these other dishwashers.
Performance
The fact that it's portable is important, but the performance just doesn't justify the expensive price tag.
If you can't install a built-in, buy this instead.
Everything about the MDC4809PAB was just… meh. The 1-Hour Wash, for instance, was decent—when scaled against regular expectations, it actually did better than all the other cycles—but nothing was ever really cleaned to perfection. All of the cycles had trouble with our tea stain—a test that comes out perfectly on a vast majority of the machines we've seen—and the Normal cycle was disappointingly inconsistent. That said, the Heavy Duty cycle did surprisingly well...at least, compared to other machines in its class.
No matter what, this machine is cleaning better and more efficiently than any hand washing you try in the sink. If you can't install a built-in, buy this instead.
Conclusion
Could be great for consumers living with leases that restrict renovations or for those who move a lot, but it's just too darn expensive.
The portable Maytag MDC4809PAB would be a solid dishwasher for the $300-$500 price range, but it's considerably more expensive than that (MSRP: $749.00). There's nothing atrocious about this machine's performance, efficiency, usability, or features—it's just the premium you pay for a portable machine. That said, it's also worth noting that a portable machine like this precludes the need for any extensive kitchen renovation, and can be an easy addition to apartments where you're not allowed to do any construction. It's also a lot more efficient and effective than hand washing.
Our editors review and recommend products to help you buy the stuff you need. If you make a purchase by clicking one of our links, we may earn a small share of the revenue. Our picks and opinions are independent from any business incentives.