dishwashers
Samsung DW80F600UTS Dishwasher Review
Spacious and flexible, but leaves some stains behind
$699.00 at Lowe's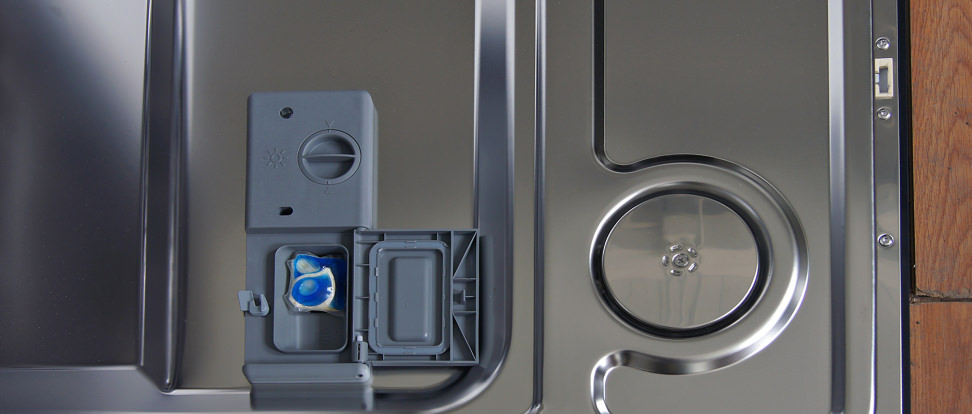 The Samsung DW80F600UTS (MSRP $749) almost had it all. When we opened the box, we found a dishwasher with an affordable sale price, a stylish stainless exterior, and plenty of room for dishes. Things were looking up.
Unfortunately, a limited selection of wash cycles, long cycle times, and trouble removing some stains hurt the DW80F600UTS in our tests. There are a lot of good dishwashers that sell in the $600-$700 range, including the Whirlpool WDT710PAYH, the Frigidaire Gallery FGHD2465NF and the Blomberg DWT24100SS. This Samsung just can't compete with the best out there.
Design & Usability
A professional look combined with a simple interface
The DW80F600UTS sure looks nice. A stainless steel door and protruding handlebar give it a clean, professional appearance, and the three indicator lights near the top of the door add character and function. The interior is also stainless steel, and a hard food disposer sits below the bottom of the tub. In theory, that means this dishwasher can grind up washed-off food and wash it away, and there's no filter to wash.


The hidden control panel sits on the top of the door. Unfortunately, the touch-sensitive buttons aren't exactly "sensitive." It's frustrating pressing something with no tactile feedback and not seeing an indicator light go on immediately. The surface is also prone to picking up smudges and fingerprints, which doesn't help matters.
The interior provides plenty of loading space, and the bottom rack has a dizzying number of plate supports. You can't fold them down like in some other dishwashers, but two of the rows can be detached and removed. Instead of a single, long cutlery basket, the DW80F600UTS comes with two smaller ones. This adds a great deal of flexibility when it comes to loading dishes. We were able to comfortably fit 11 place settings and a serving setting inside the DW80F600UTS's interior. That's impressive.
Features
Press a button and go.
The DW80F600UTS has four wash cycles to choose from: Smart Auto, Heavy, Normal, and Delicate. A Quick cycle is noticeably missing from that list, and from our testing, we found the DW80F600UTS to be in desperate need of one.

Sanitize is the only option for customizing a wash. This increases the wash temperature to bacteria-killing levels, which is useful for sterilizing items if a family member is sick. Topping off the list is a Child Lock to block accidental inputs (it's also useful for cleaning the control panel) and a Delay that postpones the start of a wash for 3, 6, or 9 hours.
Comparable Products
Before you buy the Samsung DW80F600UTS, take a look at these other dishwashers.
Performance
We didn't think spinach could travel that far.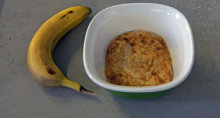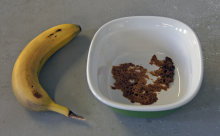 In the DW80F600UTS's Normal cycle, most of the meat, oatmeal, egg, and milk stains were washed away. Even a large amount of spinach got cleared off of the bowls we originally put them in. Unfortunately, instead of being drained away, some of the leafy green bits travelled to the other items in the dishwasher. Some of them even jumped to the upper rack and embedded themselves in the glasses and mugs we placed up there. It's a phenomenon known as redeposit, and it's the bane of dishwashers everywhere.
The Heavy cycle handled the same stains as the Normal cycle even better, with nearly no traces of original stains remaining. Unfortunately, like the Normal cycle, this cycle also suffered from instances of visible redeposit, though not to the same extent. Additionally, the Heavy cycle had a great deal of trouble with our tough burnt cheese test. Most dishwashers fail this one, but this Samsung appears to have burnt the remaining cheese on further.
Although the DW80F600UTS's hard food disposer is designed to grind up and wash away food particles and prevent them from redepositing onto clean dishes, our tests found that this was not the case. Combine that with long cycle times—the Normal took close to two and a half hours while the Heavy took three and a half—and we're left with a mediocre overall performance.
For in-depth performance information, please visit the Science Page.
Before You Buy
Look elsewhere first.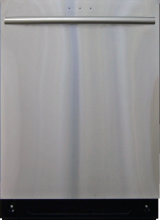 We were able to find the DW80F600UTS on sale for as low as $640. That's a good price for a roomy, stainless dishwasher. However, there are a lot of others out there that do a better job cleaning.
For instance, the GE GDT580SMFES. The GE, like this Samsung, lacks a quick cycle, but its Normal cycle is done in 90 minutes and won't spray food particles everywhere.
If pure cleaning power is all you want, the Whirlpool WDT710PAYH is a good alternative. It was our Best of Year for an affordable dishwasher in 2013, and you can get it in stainless, too.
Our editors review and recommend products to help you buy the stuff you need. If you make a purchase by clicking one of our links, we may earn a small share of the revenue. Our picks and opinions are independent from any business incentives.