dishwashers
Samsung DW80H9930US Dishwasher Review
A more affordable WaterWall dishwasher
$1,199.00 MSRP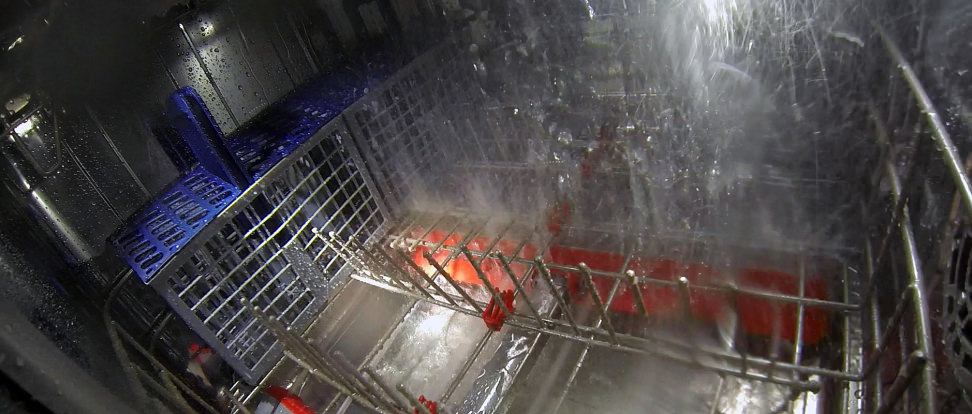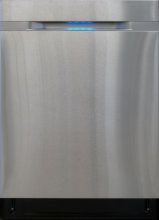 Samsung first showed off WaterWall technology in its high-end DW80H9970US dishwasher, which offered a stellar performance. But with a price tag of $1,600, we could see how some buyers might've been turned off.
The Samsung DW80H9930US (MSRP $1,299.99) is a bit more affordable, and retains many of the best features of its pricier counterpart. For instance, there's the WaterWall moving washing arm—an interesting innovation that promises to improve washing performance over the traditional rotating wash arm, without using any extra water or electricity. The DW80H9930US also features a third rack and a branding-free stainless steel front.
We've spotted sale prices as low as $899.99, which makes the innovative new technology a bit easier to swallow. Still, other dishwashers in the same price range do a better job cleaning.
Design & Usability
Not one to show off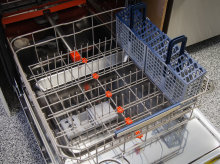 Even though the DW80H9930US is a pricey piece of machinery, you won't find any logos on the front brandishing Samsung's name. Instead, you get an elegant, recessed handle with hidden LEDs built into it, which shine a brilliant blue when a cycle is running.
The interior is no different from the Chef Collection version. Rows upon rows of collapsible tines litter the lower rack for maximum flexibility, a third rack with a rubber mat makes it easy to unload all that silverware after a wash, and the brightly-colored WaterWall moving wash arm stands out at the bottom of the tub.
We found room to fit eleven of our standardized place settings and a serving set of bakeware and serving utensils. The adjustable height on the upper rack and a pair of sturdy cutlery baskets adds even more flexibility to the DW80H9930US's interior.
Features
Take control of your wash
Although toned down from its Chef Collection cousin, the DW80H9930US doesn't feel lacking for features. Its five cycles: Auto, Normal, Heavy, Delicate, and Express 60, cover just about every kind of wash, and they performed admirably on our tests at default settings.

For those who love to press buttons, the DW80H9930US certainly has options. Zone Booster intensifies the spraying power of the WaterWall jets on the left side or the right side, letting you give special attention to extra greasy or dirty dishes. There are also some familiar faces, such as Lower Rack Only for half-full loads, Sanitize to kill disease-causing bacteria, Dry+ to extend drying time, and a Delay that can be set for up to 24 hours.
Comparable Products
Before you buy the Samsung DW80H9930US, take a look at these other dishwashers.
Performance
This wall has but one flaw...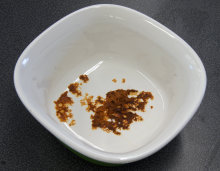 One of our tests involves using baked-on spinach stains to test the likelihood that the dishwasher will spread the green stuff around to other items during the wash. The term for this is "redeposit," and most dishwashers exhibit it to some degree. The DW80H9930US is one of the few that does not.
In fact, the DW80H9930US seems to have a personal vendetta against spinach in general, which is itself a difficult stain for most dishwashers to remove. The Heavy cycle obliterated every trace of the stain, and even the Express 60 cycle scored extremely well with this particular stain.
The WaterWall did have its weaknesses, and they're what's keeping this machine from getting a higher score. Stain removal was good, but not great. For instance, the Heavy cycle could not handle the burnt cheese test on default settings, and we suspect that this is the kind of stain that Zone Booster is meant for. Also, despite its name, Express 60 actually took about 72 minutes, which is 20% longer than advertised.
As far as efficiency goes, the DW80H9930US's estimated annual utility cost, which assumes that the Normal cycle is used most of the time with occasional uses of the more specialized cycles, is $27.43 a year. The Chef Collection version costs $27.56 a year for comparison, which suggests the two Samsungs are programmed similarly.
For in-depth performance information, please visit the Science Page.
Why We Like It
Price is less of a barrier for this WaterWall
We were big fans of WaterWall ever since we saw it at CES 2014, and our tests on the Chef Collection dishwasher found that the revolutionary new technology delivered on its promises. Unfortunately, $1,600 is out of range for most consumers, so it didn't look like the WaterWall would be replacing the traditional dishwasher wash arm anytime soon.
The DW80H9930US, on the other hand, costs just $900 on sale, and has most of the perks of the Chef Collection version. At close to half the cost, buyers can get their hands on innovative new dishwasher technology.
Still, this WaterWall has some pretty stiff competition. Our top-rated Electrolux cleans better than this Samsung, but sells for around the same price. So doesn't a budget Whirlpool model. Sure, it doesn't have as many features, but it sometimes sells for as low as $399. Bosch also has a dishwasher that's nearly as good at cleaning as this WaterWall, but it frequently sells for less.
Our editors review and recommend products to help you buy the stuff you need. If you make a purchase by clicking one of our links, we may earn a small share of the revenue. Our picks and opinions are independent from any business incentives.