dishwashers
Samsung DW80J3020US Dishwasher Review
A dishwasher that's seen, not heard.
$447.30 at Home Depot
Credit: Reviewed.com / Jonathan Chan
The Samsung DW80J3020US/AA is better than 5% of the dishwashers we tested.
It is better than 22% of the dishwashers we have tested under $600.
It is better than 1% of the install dishwashers we have tested.
The Samsung DW80J3020US (MSRP $599) reminds us of a new pickup truck: powerful, sold at a premium, and focused on utility. Just as a Ford Focus costs less than an F-150, you can get a perfectly functional dishwasher for a few hundred dollars less than this Samsung, but only if you're willing to sacrifice great stain removal.
This is also one of the least expensive dishwashers to feature a stainless steel exterior and interior. While the outside is just for looks, stainless on the inside helps to make a dishwasher quieter, and it also speeds up drying at the end of a cycle.
The DW80J3020US also lacks the kind of features you can get for a little more cash. For instance, it has a traditional washarm instead of Samsung's WaterWall system—but that makes it a perfect fit for customers who don't demand third racks or bottle wash. Although the DW80J3020US doesn't sit at the perfect crossroad of price and performance, it gets pretty close. We'd label it solidly competent.
Loading and Maintaining
A place for everything—unless it doesn't fit
Our biggest gripe with this Samsung is its lack of open space. Normal cups, plates, and bowls were a breeze to load. However, when we needed to load more awkward place settings like casserole dishes, we ran into few problems. Following the manual, we were told to place large items on the left edge of the lower rack, but anything more than 2.5 inches thick just wouldn't fit. Placing them elsewhere meant blocking other parts of the dishwasher from the stain-removing jets. If you want to put in bulky items, you won't be able to fill it up.
Apart from the tight spacing, Samsung did put a few useful features inside the tub. We liked the fact that there were two cutlery baskets. It's a small remedy to having a congested interior, but every little bit helps. There are also removable tines to create even more open space, but taking advantage of this means sacrificing a large number of spots where you could otherwise load plates.
Like many dishwashers, the DW80J3020US also boasts a leak detector. If you've ever had to mop after running your dishwasher because of an inconvenient door leak, this Samsung can help prevent that nightmare. When the sensor detects more than an ounce and a half of water against the seal, it will cut the water off.
And while we're on the subject of not cleaning up after your dishwasher, the DW80J3020US also comes with a hard food disposer. This is an old-fashioned solution to an age-old problem: how do you prevent crumbs on your plates from clogging up the drain? Most modern dishwashers have a filter you need to take the time to clean out. Considering the food residue we leave on our bowls and plates, that can be a gross prospect. But if you do your due diligence and scape off your plates before you put them in the dishwasher, the DW80J3020US won't need periodic cleaning.
Cleaning Your Dishes
All things in good time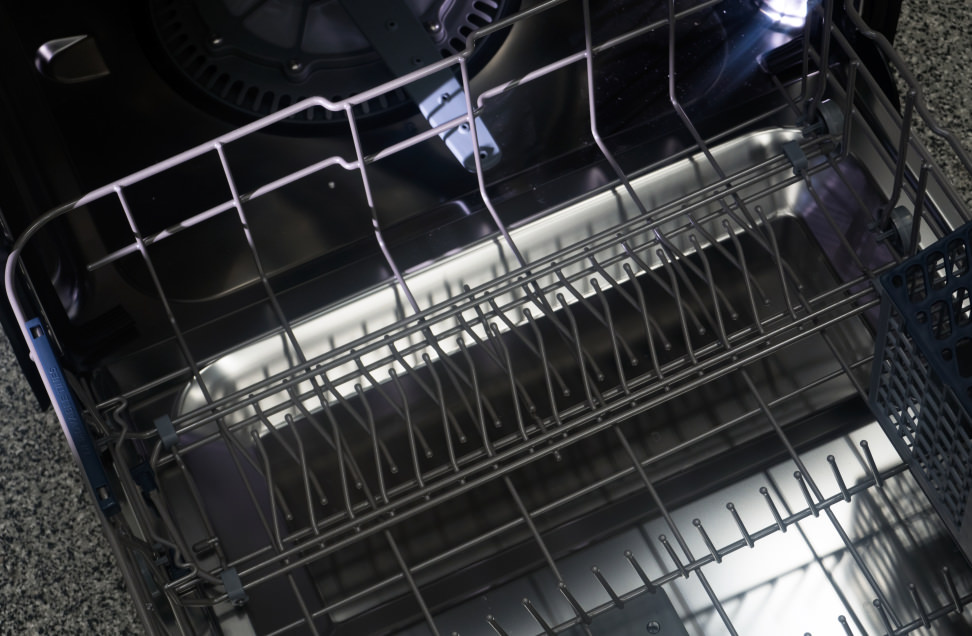 If you like to run your dishwasher while you sleep, the DW80J3020US won't wake you. A 50 dBa rating may not be the quietest on the market—but it's quiet enough that it shouldn't be audible outside the kitchen. That's especially good news because the cycles are somewhat lengthy, so running them over night may make sense. For example, the Normal cycle required two-and-a-half hours–roughly 25 percent longer than average. Even the Quick+ cycle needed 71 minutes.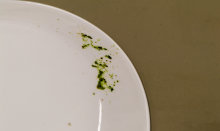 In terms of stain removal, the Normal cycle impressed us the most. It got 90 percent of our test dishes and cutlery 100 percent clean. All spotted dishes came from the top rack, which tells us that the jets up there aren't as powerful as the ones on the bottom–a common issue.
The Heavy cycle, however, proved most disappointing. As we said before, the interior is congested. Even though we loaded the racks according to Samsung's instructions, our tall casserole dishes still blocked some plates from getting the full spray from the wash arm, which meant a lot of stains remained after the cycle was over. We also found significantly more redeposit–stains transferred from one plate to another—than we found after running other cycles.
Overall, the DW80J3020US is a fairly strong stain remover—it just gets tripped up by its congested design. However, it'll do the trick for families who do their dishes every night and don't let mountains of dishes gather in the sink.
For in-depth performance information, please visit the Test Results page.
Comparable Products
Before you buy the Samsung DW80J3020US/AA, take a look at these other dishwashers.
Need The Manual?
You can download the owner's manual from this link. Make sure to read it, since there are good explanations of which cycles do what, and where to put each dish.
Before You Buy
Stainless, but not spotless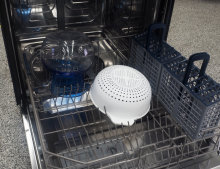 A stainless steel exterior provides a dash of luxury to any kitchen, and a stainless steel exterior helps muffle sounds and dry dishes. Although this Samsung is more expensive than, say, the Amana ADB1100AWB (MSRP $299), you're still getting good value out of the DW80J3020US's $539 retail price tag. The dishwasher's stain removal abilities are on par with other machines in its price range.
If you're upgrading from a lower-end machine, this Samsung will make doing dishes easier. The hard food disposer ensures that you'll never have to clean the filter. Plus, this dishwasher is relatively quiet when in operation, which means it can be run while you sleep. But before you buy, you'll want to note its flaws: slower-than-average cycles, redeposit on some cycles, and a tight interior. Consumers who want a machine that falls somewhere between high-end and plastic cheap may find that the Samsung DW80J3020US is a good bet.