Every full-size built-in dishwasher on the market today has at least two racks. It's simply the best setup, allowing you to efficiently use most of the space in the tub.
Even so, you're definitely not using all the available room. Some higher-end (and higher-priced) dishwashers have a third rack, which helps put some of that dead space to use. They don't come cheap, though.
The feature is frequently used as a selling point for a dishwasher, enticing you to spend a little extra on a premium model. But is it worth it? We'll weigh the pros and cons to help you make that decision.
What's a Third Rack?
Before we get too deep into this, let's talk about what a third rack actually is. First off, it's not really a rack so much as a tray. No third rack is tall enough to fit plates or bowls. However, it's ideal for holding silverware.
That said, some high-end third racks are more than just simple trays. For example, the FlexTray on the Samsung DW80H9970US has a rubber mat with handles that lets you quickly and conveniently unload the entire rack in one motion. And the third rack on the Bosch SHX7PT55UC has sections that can be lowered, which provides space to load ladles, spatulas, tongs, and other large cooking utensils.
The Pros
#1. Create more room
With an entire rack for silverware, there's a good chance you won't need to use the cutlery basket. In fact, the Miele Futura Classic G4925SCU doesn't even come with one. This leaves you with more room for plates, casserole dishes, pots, and all the other big items that fight for real estate down on the bottom rack.
#2. Keep your hands clean
Silverware rests on its side when properly loaded onto the third rack. This means your fingers never have to leave the handles of your knives, forks, or spoons during loading, so you don't have to worry about getting your hands dirty.
#3. Avoid getting poked
With a cutlery basket, most silverware is dropped into the basket handles-first. This means the bowls of the spoons, tines of the forks, and tips of the knives (if you're one of those people)—in other words, the ends food on them—are all sticking upwards. If you don't like accidentally poking yourself while loading or unloading the dishwasher, you'll be happy to know that the third rack avoids this problem.
The Cons
#1. No room for tall things
Some tall items, such as champagne glasses, are supposed to be loaded on the upper rack. With a third rack in the way, there might not be enough clearance. Some dishwashers work around this limitation by letting you adjust the height of the upper (technically middle) rack, or letting you remove the third rack entirely.
#2. Loading (and unloading) can be a hassle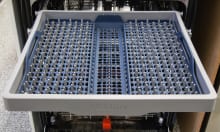 With a third rack, you have to meticulously load each knife, fork, and spoon and make sure they're facing the right way, in order to maximize cleaning potential. You can't just toss them into an open slot like you could with a cutlery basket.
Unloading can also be a chore. With a cutlery basket, you could take the whole basket to your cutlery drawer and put the silverware away in one trip. If your third rack can't be removed, you're stuck carrying handfuls of silverware at a time.
The liftable sections on the GE Profile PDT760SSFSS's third rack and Samsung's FlexTray sidestep this issue.
#3. Third racks are expensive
A third rack is considered a premium feature. But for all its benefits, having to purchase at least a mid-range dishwasher (and spending $800 or more) is a deal-breaker for many consumers. Unfortunately, there's no budget-minded model ($600 or less) on the market that's equipped with a third rack.
Which Dishwashers Have a Third Rack?
If you peruse our dishwasher reviews, you can filter the results to show only models with third racks.
Top recommendations:
• Samsung DW80H9930US
• Bosch SHP65TL5UC
• KitchenAid KDTM404ESS
• GE Profile PDT760SSFSS
• Miele Futura Classic Plus G4925SCU
Related Video
Our editors review and recommend products to help you buy the stuff you need. If you make a purchase by clicking one of our links, we may earn a small share of the revenue. Our picks and opinions are independent from any business incentives.