Bosch dishwashers are incredibly popular, but—like most home appliances—they have horrendously confusing names.
To the average customer, the 500 Series looks just like the 800 series, and model numbers like SHP65TL5UC and SHE65T55UC all blend together. But, what do those series designations mean, and why do they matter?
That's why the editors at Reviewed.com are here to help. After you've read our guide to Bosch dishwashers, you'll be able to tell an Ascenta from a Benchmark, and a pocket handle from an external control.
Amazingly, the line used to be even more complicated, but Bosch simplified things a few years back, deleting the "Plus" designations. Now, there are five flavors of Bosch to choose from, each with its own colors, handles, and special features. Generally speaking, you get more features when you spend more money. Here are the differences, and how to tell them all apart.
What's The Same
All Bosch dishwashers have a few things in common: They can be mounted flush with cabinetry for a built-in look and they have a detergent dispenser designed for tablets.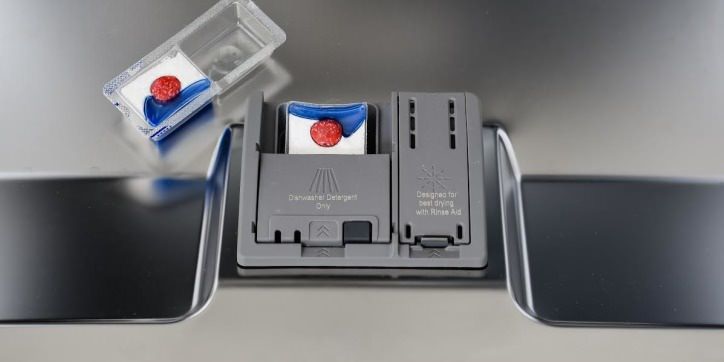 Every series offers some dishwashers with RackMatic, which allows users to more easily adjust the height of the upper rack among 3 height levels and 9 tilt positions to fit more items. Models with hidden controls feature Bosch's InfoLight—a light that beams down on the floor to let you know when the dishwasher is operating. Benchmark series dishwashers have TimeLight, which projects the actual time remaining on the floor beneath the dishwasher.
Some models within each series are retailer specific, so if you can't find the model you want at a big box store, try shopping online or at a smaller retailer.
Dishwashers with the DLX designation may offer the ExtraScrub Option, which gives the user the choice to add higher water pressure, higher temperatures, and longer washing time for the lower rack, or SpeedPerfect, which uses extra water and energy to cut cycle time without impacting performance.
The Ascenta Series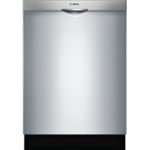 Ascenta dishwashers are Bosch's entry-level offering. They range in price from $450 to $650 and are all manufactured in North Carolina. Unlike higher-end models, Ascenta dishwashers have a hybrid tub—it's made of stainless set into a plastic base. Counting color combinations, there are 12 dishwashers in the series. They're available in black, white, and stainless.
Sound ratings range from 46 dBA to 50 dBa, which is louder than other Bosch models, but quieter than many competitors. The "scoop handle" design—an indent beneath the exterior-facing controls—is unique to Ascenta.
The 300 Series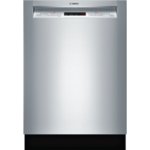 Each 300 Series features an all-stainless tub and two racks. With the exception of the German-made 18-inch model, they're all made in North Carolina. The 300 Series dishwashers range in price from $670 to $760, and their sound ratings range from 44 dBA to 48 dBA. None of them are available with third racks. The 500 Series, 800 Series, and Benchmark models all come with third racks.
Within the 300 Series, only the 300 DLX models get RackMatic. Counting color and handle options, there are 12 dishwashers in the 300 series. A panel-ready model is also available.
Models with a bar handle and hidden controls are only available in stainless steel.
The 500 Series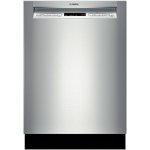 The 500 series has all the same features as the 300 series, but adds a third rack. There are 7 dishwashers in the 500 Series. They range in price from $760 to $850, and have sound ratings of 40 dBA to 48 dBA. Models with a DLX designation have a two-piece flexible silverware basket, while standard 500 Series models have a one-piece basket.
Like the 300 series, models with a pocket handle or recessed handle are available in black, white, and stainless steel.

The 800 Series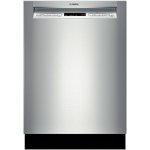 The 800 Series builds on the 500 Series, but adds additional folding tines and a tall item holder. Hidden control models also have touch-sensitive buttons. There are 15 dishwashers in the 800 Series. They range in price from $800 to $1075, and have sound ratings of 40 dBA to 48 dBA.
The 300, 500, and 800 Series dishwashers all use the same wash system. The only differences are what options and features they add.
The Benchmark Series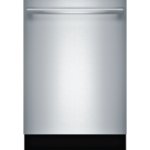 Benchmark sits at the very top of the Bosch lineup. Most of the dishwashers in the Benchmark line are made in Germany, and they have every feature from the 800 Series—and more. For instance, LEDs light up the interior when you open the door.
You get your choice of hidden handles or color LCD displays. A device on the unit itself automatically cuts off incoming water if there's a leak, and some models have built-in water softeners. Sound ratings are exceptionally quiet— between 38 dBA and 42 dBA. Of course, the prices match the luxury quotient. They range from $1,299 to $1,999 and are generally only available from independent retailers.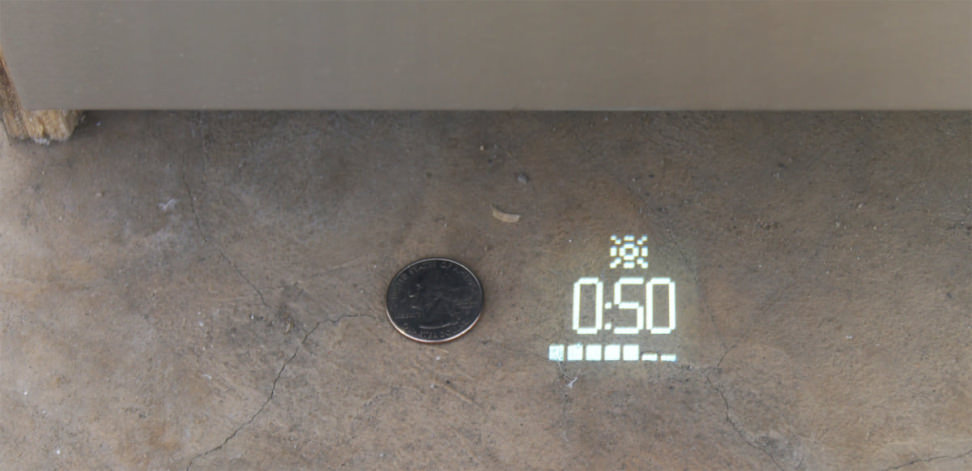 The Model Number Tells All
If you get confused, the best way to learn more about the dishwasher you're buying is by taking a look at the model number.

Though model numbers may look randomly generated, every SKU tells a story. For example, let's examine the SHE33T55UC. Just from looking at this number, you can tell it's a 24-inch model with external controls in the 300 Series, with a stainless finish. How?
• The initial S tells us that the product is a dishwasher. (A model number starting with a B is a fridge, and an H is a microwave.)
• If the second letter is an H, it's a standard 24-inch model. If it's a G, it's a 24-inch ADA compliant model. If it's a P, the dishwasher is a compact, ADA-compliant 18-inch model.
• The third letter tells us what the handle and display combination is. An E, for instance, means external controls. X means the dishwasher has a bar handle, while a P means the dishwasher has a pocket handle. A V means the dishwasher is panel ready.
• The fourth digit tells us what series the dishwasher is in. 3 = 300 Series. A = Ascenta, 5 = 500 Series, 8 = 800 series, and P = Benchmark.
• The eighth digit tells what color the machine is. 5 = Stainless, 6 = Black, 2 = White, and 3 = Panel Ready.
Simple enough, right? Armed with this information, you can find the right dishwasher for your needs.
Our editors review and recommend products to help you buy the stuff you need. If you make a purchase by clicking one of our links, we may earn a small share of the revenue. Our picks and opinions are independent from any business incentives.