If your home has weak water pressure, your sink-sprayer is only really useful as a squirt gun—not at washing away stuck-on dinner debris. But help has arrived.
Jokari's Spray Scrubber attachment puts a two-pronged pinch on dirty dishes, by adding a plastic scrubber brush to the typical water-pressure attack. It's pretty effective on plates, bowls, and other cookware, though it doesn't "almost [make] up for not having a dishwasher," as Gizmodo put it. But an Amazon reviewer notes that the attachment is especially useful for scrubbing dirt off of potatoes or other root vegetables. At $8 with shipping, it might be worth a try.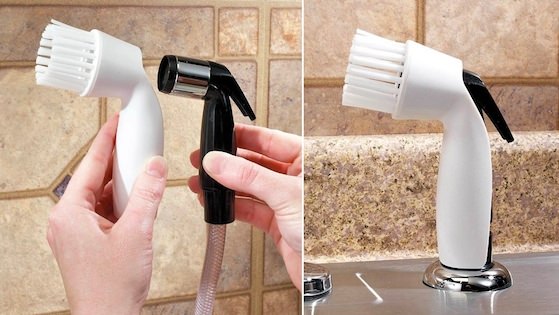 via Gizmodo
We've scoured the web to find you the best deals on good products. While Reviewed.com may receive a small share of the revenue from your purchase, editorial opinions are independent from any business sales.
Be in the know! Get Reviewed.com news and reviews straight to your inbox.
Thanks for signing up!