Good news! Today's dishwashers are quieter than ever before. While making sure your dishes come out sparkling clean should be your top priority, it's a bonus when your kitchen doesn't sound like a construction zone. After testing hundreds of models the Bosch 500 Series SHP65TL5UC is the quietest while still offering top marks for performance.
But not all quiet dishwashers also offer stellar performance. Luckily, we've tested dozens of models in our state-of-the-art labs, and have found the machines that are best suited to getting your dishes sparkling clean without waking the whole house.
So if you're after a dishwasher that's a truly smooth operator, take a look at our choices for the five best ultra-quiet dishwashers on the market today. Want to know more about a particular product? Just click through to read the full review.
Updated January 03, 2018
Advertisement - Continue Reading Below
We love all the Bosch 800 Series dishwashers. No matter which one you pick, our tests show you'll get excellent cleaning performance, good drying, sleek looks, and a highly desirable set of features. With easy-gliding racks and an optional "MyWay" third rack that fits soup bowls, you can choose the look you like best and configure the racks to make room for your dishes and pans. Best of all, they're as quiet as 39 db!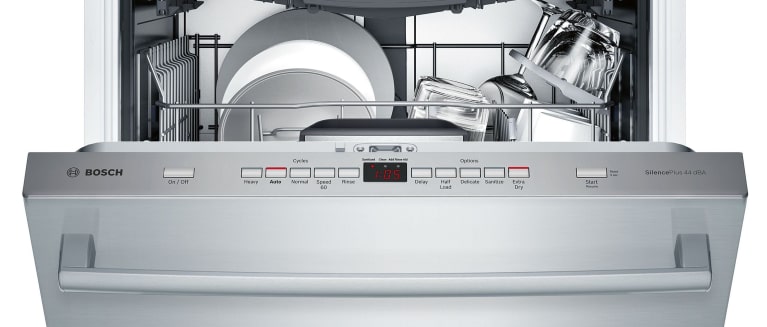 2
Bosch's 500 Series dishwashers are popular for their quiet performance—as low as 44 dBa— but our lab tests show they're great at cleaning, too. Available with two handle options in stainless, black, or white, their hidden controls will fit any kitchen design. Every one features a third rack, extra drying feature, leak prevention, a quick wash cycle, and smooth-gliding racks. User reviews are overwhelmingly positive.
Where To Buy
$849.10
AppliancesConnection
Buy
$854.99
Best Buy
Buy
3
If you're looking for a dishwasher that's truly impressive, you should consider the LG LDT7808ST. Quiet and stunning, it has every feature you've been wanting, including steam, adjustable racks and tines, half loading, delay start, and more. It performed well, especially on the steamy heavy cycle, and dried dishes almost completely. Even the quick cycle performed well, getting the dishes very clean in an hour.
Where To Buy
$985.10
AppliancesConnection
Buy
$989.10
Home Depot
Buy
$989.99
Best Buy
Buy
4
The Bosch 300 Series is all new for 2017, but it continues to offer the same sleek look, quiet operation, and incredible cleaning prowess that Bosch is known for. On top of that, it also gets a newly redesigned 3rd rack, foldable tines, an adjustable upper rack, better drying, and an optional water softener... Phew! This dishwasher is worth every cent, and even offers more design choices than the pricier 500 Series.
Where To Buy
$1,029.10
AppliancesConnection
Buy
$1,034.99
Best Buy
Buy
5
From design to performance, this all-new dishwasher is all about fluidity and grace. Perhaps most importantly, it's equipped with KitchenAid's Clean Water Wash technology, which continually removes food particles from wash water. That means the KDTM354DSS doesn't spray debris back onto clean dishes. Should you buy one of your own? We think so. This is one of the best-performing dishwashers in its price range.
Where To Buy
$897.30
Home Depot
Buy
$899.99
Best Buy
Buy
Advertisement - Continue Reading Below