A good cutting board is one of the most important tools in any kitchen. But don't be fooled: Despite their apparent simplicity, cutting boards require some serious care and maintenance if you want to keep them in tip-top shape.
Whether wooden or plastic, your cutting board needs to be periodically cleaned and sanitized. Here we'll take a look at a few tried-and-true methods for cleaning and conditioning all types of cutting boards.
---
Bamboo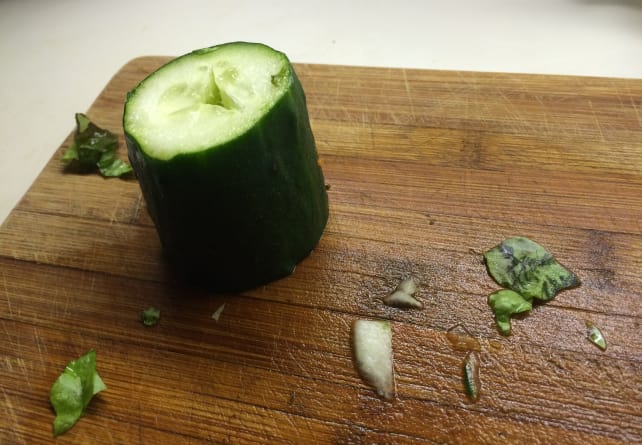 As one of the fastest growing plants in the world, bamboo is probably the most sustainable option for a cutting board—and also the most popular. The material itself is pretty darn sturdy, but that's not necessarily what you want. Hard surfaces can stress and dull your knives, especially if you're cutting a lot of produce. That said, bamboo is resistant to stains and even has inherent antimicrobial properties.
To clean a bamboo cutting board, simply run it under warm water and scrub it clean with a soapy sponge. While bamboo has some antiseptic properties, it's still a good idea to sanitize or disinfect your board from time to time. Soak a cloth in a solution of half water, half white vinegar, then wipe both sides of the board.
Last and perhaps most important, dry the board in a vertical position. This will prevent water from permeating the wood fibers and warping the board. You should avoid soaking the board in water in general, and always wipe it dry after rinsing.
Wood
The vast majority of wooden cutting boards are made from bamboo, but there are plenty of other types, including maple, teak, walnut, cherry, and olive. Each has its own set of pros and cons, but few are as sturdy as bamboo—or as environmentally friendly.
That said, the cleaning procedures are pretty much the same. Just rinse and scrub the board clean with a soapy sponge, then set it aside to dry—vertically. Like bamboo, you want to keep water from seeping into the wood and warping the material.

But what about those stubborn, irritating stains caused by fruit juices and oily foods? A good strategy is to sprinkle the board with salt or baking soda, and then scrub it with the open side of a halved lemon. This will help lift the stains while also neutralizing any unpleasant odors, and it works for both bamboo and standard wood cutting boards.
Finally, you may also want to periodically oil your cutting board, since it can help prevent cracks and warping. You should do this about once a year, although master cooks will need to do it far more often than that.
The best choice is mineral oil, though almond oil, walnut oil, and even beeswax are all acceptable alternatives. Just stay away from olive or vegetable oils. Once you've chosen an oil, simply rub it into the board and let it sit for a few hours, then wipe the excess liquid away.
Plastic
Plastic cutting boards offer a number of advantages over wood. Made from polyethylene, they tend to be more durable, last longer, and provide better resistance to cracks and warping. They're even pretty easy to clean. The problem is that they more easily harbor bacteria and nasty stains, especially as they age and grow more rugged. The microscopic cavities that form trap tiny food particles and make for ideal bacterial breeding grounds.

For that reason, you need to periodically go above and beyond the routine sink cleaning. Make a point of actually disinfecting the thing. The good news is that, unlike wooden boards, plastic cutting boards are dishwasher-safe, meaning any decent high-heat or sanitize cycle will adequately disinfect it.
If you don't own a dishwasher, you'll need to go the traditional route. You can use the vinegar-and-water solution mentioned above, but some experts suggest using a bleach solution. (An all-natural cleaner might be more palatable for cooks who are sensitive to bleach.)
Glass, Slate, or Marble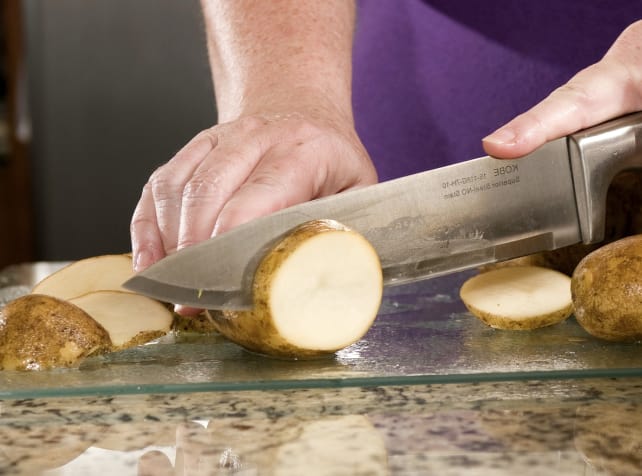 While we wouldn't recommend buying glass cutting boards in the first place, we understand that they exist. Along with slate and marble, glass cutting boards aren't exactly friendly to your knives. But they are pretty. They also last a while and do not need to be periodically oiled.

To clean, you need only rinse and scrub the material with soapy water, then set it aside to dry (no need to worry about warping). Like plastic, these cutting boards do not have any antimicrobial qualities of their own, so you'll want to be diligent about disinfecting from time to time.
Just follow the above recommendations to sanitize: Use a solution of water and white vinegar to rinse the boards. You may also want to use a non-toxic cleaner or disinfectant. Easy enough, right?
Related Video
Our editors review and recommend products to help you buy the stuff you need. If you make a purchase by clicking one of our links, we may earn a small share of the revenue. Our picks and opinions are independent from any business incentives.